Trampo Extreme, a family entertainment center in Muscat, Oman, celebrated the opening of a Sky Trail aerial attraction. The two-story structure, designed and constructed by Ropes Courses, Inc., contains 21 unique elements including a 60-foot Sky Rail ride.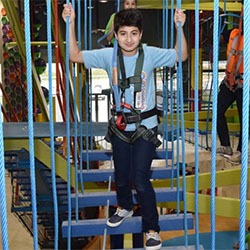 Located directly above Trampo's scooter and skateboard terrain park zone called Scoot n' Skate, the Sky Trail offers challenges such as a zip-zag rope bridge, lily pad stepping stones, a rolling log, and more. Participants are clipped in via single redundant slingline that allows them to move over and under elements using RCI's patented overhead tracking system.

"The Sky Trail makes an immediate impact as customers walk into Trampo Extreme! Since we opened, it's been one of our most popular attractions," reported Trampo Extreme general manager Craig Ogilvie.
Trampo Extreme also offers colorful Clip n' Climb climbing walls, a Drop Slide, an indoor caving zone called the "Twister Tunnel," and more. As the entire facility is indoors, it is open 365 days per year, including public holidays. Indoor facilities are becoming increasingly common (Read more about industry trends in "World of Changes")
Trampo Extreme also has a Sky Trail course at its Murouj Mall Sports Facility in Sabhan, Kuwait, which opened in 2015. "We went with a double level Sky Trail and a 10m high Sky Rail, which has proven to be even more appealing than the single level one we installed at our Kuwait location in 2015," Ogilvie continued.
For more information, visit www.trampo-oman.com.