Dear Partners,
We have an exciting update to share with you.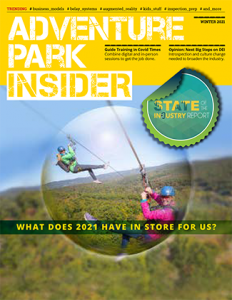 Adventure Park Insider will once again be delivered to mailboxes as a beautiful print magazine.
During the pandemic, we transitioned Adventure Park Insider to digital format to make it easier for our readers to stay connected from home. With more than 9,000 unique reads to date, the pivot to a more flexible format was a success. Still, many readers wanted print to return—and so it will.
Adventure Park Insider has long been a complimentary publication, supported by our valued supplier partners. When it returns to print this spring, that support will expand because the print magazine is going to be a paid subscription. This is an exciting shift, and we expect a substantial portion of our existing subscribers to opt in.
We will continue to produce the digital edition in 2021 because this model enables you, our supplier partner, to embed videos and direct links to your product pages for an added marketing benefit and increased engagement. Print subscribers will enjoy a premium service that includes the magazine, the digital edition, the State of the Industry Report, and some exclusive supplier offers (which you can be a part of—let Sharon know if you're interested).
It is more important now than ever for API to keep operators and suppliers connected, sharing what we know so we can rebound quickly and be stronger than before. The 2020 data for outdoor participation has us feeling very optimistic for 2021 and beyond. The Outdoor Industry Association (OIA) reported the biggest year-over-year growth in new folks seeking outdoor adventures. The State of the Industry Report indicates adventure operations are poised for growth.
We have an opportunity and obligation to welcome lots of new people to our outdoor environments. Our supplier partners will play an integral role in helping the industry move forward—and come out the other side more resilient than ever.
More good news: our special "digital" rates (see below) are still in effect for the upcoming Spring print edition. Reserve your spot today and enjoy the added bonus of your advertising appearing in both the print and digital editions of Adventure Park Insider magazine.
Book your spot today!
Sharon Walsh
Advertising Director
Adventure Park Insider
508-655-6408

Special Packages Available:
Full-page ad: $1,980
Half-page ad: $1,095
Full-page ad: $1,500
Half-page ad: $800
Presence Package: Four-color ad in Adventure Park Insider magazine:
These prices reflect a 30% discount off the best available print rate. 
Full-page ad: $1,280
Half-page ad: $690
1/4 page ad: $415
1/6 page ad: $285
1/8 page ad: $150