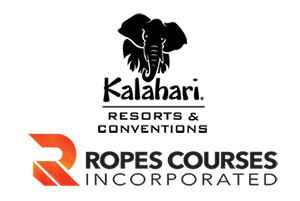 Kalahari Resorts and Conventions are collaborating with Ropes Courses Incorporated to install a 36-foot-high Sky Trail aerial attraction, a Sky Tykes attraction, and seven Clip 'n Climb climbing walls as part of an 80,000 square-foot theme park and convention center in Round Rock, Texas. The brand-new resort location, scheduled to open in November 2020, will feature 250 arcade games, bowling, and miniature golf, in addition to the RCI adventure attractions.
The 13 pole, two-level Sky Trail will offer 44 elements, including two curved Sky Rails, a Walk the Plank element, and more. The seven Clip 'n Climb climbing walls will be integrated into a space near the Sky Trail and the Sky Tykes attraction, which will feature a Sky Rail and 10 elements for children 4-foot tall and under.

RCI and Kalahari Resorts have collaborated previously for the installation of a Sky Trail and Sky Tykes aerial attraction at the resort company's Wisconsin Dells, Wisconsin, location in 2008, and a three-story Sky Trail at the Safari Outdoor Adventure Park at Kalahari's Sandusky, Ohio, location in 2010.
"Working with the Kalahari team over the years has been exciting, as we not only get to see the integration of our adventure products but the overall expansion and development of their resort experience as well," said Jim Liggett, president and founder of RCI. "The Round Rock location will be their biggest yet, and we're confident guests of all ages will thoroughly enjoy every aspect of the entertainment provided."