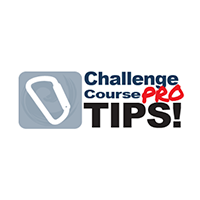 We've partnered with the team at the Adventure Guild to bring you Challenge Course Pro Tips! A video series for adventure park operators covering industry-specific tips and best practices. Stay tuned for new videos with tips for industry professionals.
Effective and Efficient Gear Storage
Seven Tips for Opening Your Challenge Course
Read the accompanying article here.

Stop & Fix Woodpecker Damage
What Inspections Do You Need?
The Right Way to Inspect Your Challenge Course
End of Season Tips
This video series is created in partnership with The Adventure Guild.