Zip-ladies and gents, welcome to the first state of the union address for aerial park and zip line marketing. This review focuses on three pillars of online marketing: review sites, video, and mobile design.
In the last few years, have you felt your competition rising? Have you been overwhelmed by rapidly evolving best practices in marketing? If you've experienced either of those, this guide is for you.

I spoke with zip line and aerial park experts to form a short list of standout companies, who succeeded in surprising me with their online marketing prowess. But I also uncovered important marketing realms in which someone has yet to succeed. All this offers a constructive lens through which you can view your own company and marketing strategy.
Marketing is your biggest weapon in a rapidly maturing industry; it's your distinct voice. When you fail to develop that voice, it can feel like being lost in a thunderous and roiling sea of engulfing competition.
But don't get discouraged. This incredibly important tool often bewilders those even at the forefront of the field. The best we can do to keep up with the changing tide of marketing do's and don'ts is to glean as much knowledge and insight as possible from the examples of those around us and apply them to our own brands.
So, without further ado, here's a look at what's working and what's not in the world of zip line and aerial park marketing.
REVIEW SITES
Let's begin with review sites. For years, studies have found that positive reviews play a role comparable to price when it comes to purchasing tours online. Luckily for zip lines and aerial parks, you excel at generating reviews on the king of review sites, TripAdvisor.
Zip lines and aerial parks have generated more than 25,000 reviews on this platform to date. With 150 zip line and aerial park profiles listed in the U.S. on TripAdvisor, that comes out to 160 reviews per company, on average.
If your tour benefits considerably from all this positive feedback, highlight it, don't hide it!
Winner of the Missed Opportunity Award: Sonoma Canopy Tours, Calif.
Sonoma Canopy Tours, Calif., earns fantastic TripAdvisor credentials. Almost nine out of every 10 reviews receive 5 stars. But you wouldn't know this by taking a quick glance at Sonoma's website: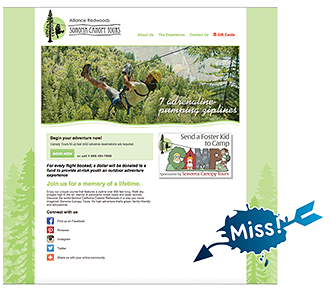 There are plenty of links to social media sites, there's even a whole column of white space, but Sonoma pushes its TripAdvisor badge all the way to the footer.

If you're like Sonoma, and receive lots of five-star reviews, don't be afraid to flaunt what you've got.