"Google it."
Can you believe we've been using this phrase since the late 1990s? According to Dictionary.com, "Google" as a verb was so useful by the turn of the century that it was nominated as the "Word of the Year" in 2002 for the American Dialect's Society.

And with good reason! With the internet came a need to be able to find things on it, and Google's search-engine power rose to supremacy. Nowadays, if you need the answer to something, you just "Google it."
When You Get Googled
Have you ever Googled your park or business? Try it right now. Most folks don't know your website URL by heart, so they're going to plug your business's name—or something close to it—into a Google search.
What do you find when you Google your park? First and foremost, hopefully you see your website listed in the results. And if you have a solid Google Search and Maps presence, you may see a panel with a snapshot of info about your park on the screen as well. How does it look? Is everything correct? Is there a Google Review rating, or a thumbnail of where you're located on Google Maps? Are your hours of operation there, and are they up to date?
It's important for this information to appear when someone searches for your park—and the information needs to be correct.
This article will guide you through how to take control of what customers see in their Google search AND ways to maintain it so they can always find you.
Why Should You Care?
If I told you something completely wrong that I had heard about your adventure park—say, that I wanted to plan a teambuilding outing for a Monday, but I had heard you aren't open on Mondays—wouldn't you climb over tables and chairs to correct me? That's revenue ready to walk or run to a competitor simply because I have wrong information.
It happens a lot. For example, a few years ago I took my kids to ski lessons in Breckenridge, Colo. I wasn't skiing that day, so I planned to hole up in a nearby coffee shop with wi-fi. I Googled ahead of time to find a suitable spot, and one coffee shop I found looked great—except the hours of operation on Google Maps said it wasn't open that day. Bummer!
So, I started walking to a second option, which happened to take me past my first choice—lo and behold, it WAS open! Google Maps information was wrong, and had I not walked by to see that was in fact open the business would have lost revenue. And that was just me; how many other customers looked this place up and chose another coffee shop because Google said it was closed?
The lesson: It's important to you—and especially your bottom line—that online information about your business is correct. The good news is, Google's Search and Maps features allow to control the information that appears.
One last excellent reason why you should make sure you have a presence on Google Maps is that it's the 4th most used mobile app among smartphone users (after YouTube, Facebook, and Google).
OK, now that you're hopefully convinced that this is worth your while, let's do this.
Set Up Your Google Maps
If you searched for your business on Google and have no idea how your Search or Maps listing got there or who created it—or if you found no listing on Maps or in Search at all—this next part is for you.
Google Business
If you have a Gmail account, you may have already dabbled in the most well-known features of Google, such as Calendar, Gmail, Hangouts, Drive, or any of the many other features. The one you need for claiming and cultivating your Google Search and Maps presence, though, is Google My Business.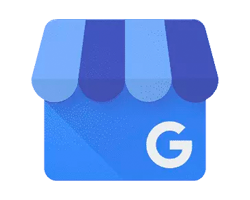 Most average users won't ever need to use this feature, but it's called Google My Business for that very reason—if you own or manage a business that serves customers, your business should have a Google presence and this Google app helps you with that.
First, if you don't have a Gmail or Google account already, you'll want to set one up. (You may even want to set up or use a unique Gmail or Google account that's just for managing your online presence, especially if you already have a Gmail used for personal stuff.)
Once you're signed in to the Gmail or Google account you intend to use, navigate on your browser to Google Business (on any Google site where you're signed in, click on the cube of cubes at the top right of the screen next to your Google avatar profile circle). Scroll down and click More until you see a little blue storefront-looking awning with a G on it – that's the icon for Google My Business.
Setting Up Your Google Business
In Google My Business, the first step is to check to see if your business is already on Google.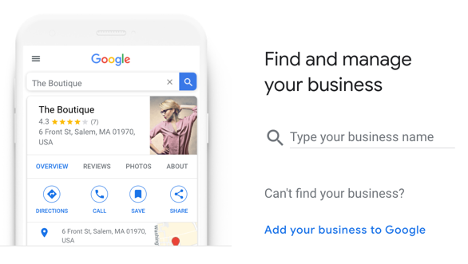 Type in your park or business name when prompted to see if Google finds it. Make sure to try a few variations of the name in case something is mistakenly abbreviated or spelled a little differently.
If your park/business isn't found, Google will take you through a series of prompts to add your business to Google. You'll need:
Your physical and/or shipping address;
your hours of operation (including for special calendar dates);
location(s) where you serve your customers;
your business contact number;
your business website.
If your park/business is found, you'll need to go through the process of claiming the location, which means Google will need to verify that you're an authorized person for the business.
Verify Your Business
This is where you'll need your mailing address, because Google will need to mail you a verification code. In short, you won't be able to verify your Google Maps location until they send you a code via regular mail. Once you receive the code, you will be able to enter it into Google My Business to verify that you indeed can manage the location because you have access to the actual location.
It gets a little more complicated if mail isn't delivered to the physical address of the business. In this case, according to Google My Business customer support, you still need to request the confirmation code. If you haven't received it after 15 days—which, of course, you won't if mail isn't delivered to that address—you can then contact the support team to figure it out.
In general, it's important to review the Google My Business guidelines to understand the rules and requirements.
Your Checklist for Google Success
Once you're verified, the sky is now the limit. This is where the true power of Google Maps and Search can work behind the scenes to bring you new business.
Here's your *checklist for Google greatness:
Add photos and videos to your Google My Business location(s).
Invite/encourage your customers to add their photos and videos to your Google Maps location(s).
Invite/encourage your customers to review you on Google.
Reply to all of your Google Reviews.
Answer questions people ask through Google Maps.
Invite/encourage your customers to create their own Google Maps lists and add your park as one of their favorite spots to visit.
*Download the Google My Business app and the Google Contribute app to your smartphone; you can manage and contribute to your location(s) from the palm of your hand!
Google Local Guides
One of the best parts about using Google is that it incentivizes and rewards individuals to interact with its apps. Google Local Guides are simply Google users who routinely interact with Google Maps by contributing their own insights, moments, and reviews for locations they visit. For their efforts, they can achieve levels where they win complimentary gifts and badges since they're improving the Google Maps accuracy and experience. Getting your own Google Local Guides as your advocates for your locations is a win-win-win.