TimberTop Adventures opened in Saint John, New Brunswick, on July 7. The course is located in Dominion Park, a part of the Stonehammer UNESCO Global Geopark, a unified geographical area where sites and landscapes of international geological significance are managed with a holistic concept of protection, education, and sustainable development.
The focus of the UNESCO Global Geopark designation is on the local rock formations, and as a member of Stonehammer, the staff of TimberTop are trained to teach interested visitors about the unique rock formations within the park.

TimberTop broke ground on its eight linear courses in November and completed construction over the winter months. The build was managed in-house by the TimberTop team with consulting by M&J Weigelt ServicePoint and Prisme. Two of the courses are dedicated to junior participants as young as 5 years old. The six "Go Wild" courses for participants age 8 and up feature 61 unique elements and range in difficulty from easy (green) through difficult (double black).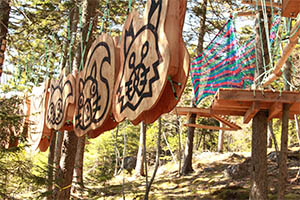 "We researched challenges from around the world and feel we've been able to curate the best of the best to pack into our park, including a flying skateboard, trapeze, floating swing, lots of hanging climbing wall elements, and a few new unique challenges," said co-founder David Alston. Participants make their way through the challenges utilizing the Bornack SSB smart belay system to maintain a constant connection between the participant and the course.
Guests can add on an additional adrenaline adventure with the Flying Squirrel free fall. The attraction features a QuickJump device from HeadRush Technologies, allowing for 10 feet of free fall before guests are lowered to the ground using eddy current braking technology.
The course was built to European safety standards. "Upon review of the various standards we felt that the European ones were more stringent in terms of materials used…When we had our park inspected we asked Prisme to inspect us to this [European] standard as they build parks around the world," said Alston.