Innovative Leisure, the UK distributor of Sky Trail products manufactured by Ropes Courses, Inc., recently installed a large Sky Trail Navigator ropes course called VertiGO at Drayton Manor Theme Park in Staffordshire, UK. The attraction opened in July.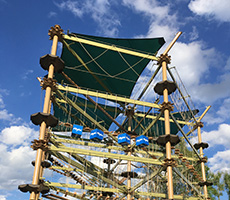 The popular theme park features a resort, zoo, and more than 40 rides and attractions. VertiGO is a nine-pole course that stands more than three stories tall and consists of 28 rope and board activities. Featured is a "walk the plank" element, a six-inch wide beam that protrudes seven feet from the course, requiring participants to pivot and return hands-free.

The family-friendly park made sure its new attraction was fun for kids, too. So alongside VertiGO is VertiGO Tots—a Sky Tykes ropes course for those less than four feet tall. With elements no more than three feet from the ground, young thrill-seekers can navigate the course while parents watch or assist as necessary.
"The Sky Trail will offer guests an experience unlike anything else at the amusement park. Park-goers can fully control their experience, and today's youth really respond to that," said Ropes Courses, Inc. marketing manager Lori Gunthorp.
Innovative Leisure was founded in 2000 and partnered with Ropes Courses, Inc. to sell Sky Trail ropes courses in 2010.