Omega Pacific has issued a recall on six models of its G-FIRST series aluminum carabiners due to risk of injury or death. (Note: No injuries have been reported as of Nov. 30.) The carabiners in question are typically used to link ropes and harnesses together. The carabiner can potentially break while in use.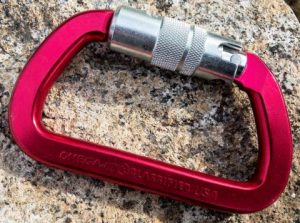 On the carabiners in question, "Omega-17 UL Classified USA" is printed on the front and "Meets NFPA 1983 17ED MBS kN 40 G" is printed on the back. The two-digit lot code "OD" is embedded on the bottom side of the carabiner spine. This recall affects carabiners sold in all three colors: silver, black, and red.

Omega Pacific asks that consumers immediately stop using the recalled carabiners and contact Omega Pacific customer service to receive a free replacement or full refund. Consumers can call 800-360-3990, email [email protected], or visit www.omegapac.com and click on the "Notices & Recalls" at the bottom of the page for more information.
This recall is being conducted voluntarily by Omega Pacific under CPSC's Fast Track Recall process.