Perfect Descent (PD) has been named the sole auto belay supplier for the climbing events at the forthcoming 2020 Tokyo Olympic Games, scheduled to take place Jul. 23 – Aug. 8 following last summer's Covid-related postponement. This is the first time that climbing will be included in the Olympics.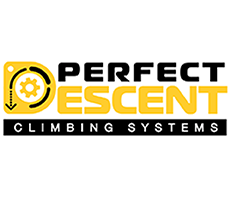 The inaugural Olympic climbing competition will include lead climbing, bouldering, and speed climbing. PD's auto belays will be in use on the Olympic speed wall. This first Olympic sport climbing competition will be hosted Aug. 3-6 at the Aomi Urban Sports Park.

PD is also the official auto-belay supplier to the IFSC (International Federation of Sport Climbing) World Cup. "We are excited to partner with Perfect Descent to enhance the visibility of speed climbing athletes and technology from the Youth Olympic Games in Buenos Aires and leading up to the upcoming Olympic Games in Tokyo," said IFSC president Marco Scolaris.
Competition auto-belay units, like those to be used in Tokyo, feature a centrifugal clutch and brake mechanism outfitted with a 53-foot lanyard and twin carabiner connectors for additional security. The lanyard retracts at 15 feet per second, and proprietary Duplex Spring technology allows the lanyard to continue retracting in the event of a spring fracture.
PD's auto belays are certified to the European 10X Class A EN 341:2011 standard.