Perfect Descent, makers of the Perfect Descent Auto Belay, has partnered with Olympic hopeful Sean McColl and veteran speed climber Libor Hroza as the first members of its newly established athlete sponsorship program.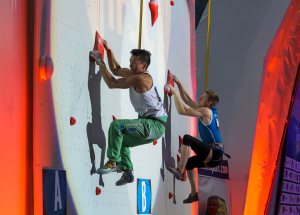 "We see our role as an official supplier to IFSC competitions as more than simply providing auto belays for competition use," said Andrew Miller, VP for Aerial Adventure Tech, Perfect Descent's global distributor. "We want to support the success of climbing at the competition level. That's why Perfect Descent sponsors competitions like the Youth World Climbing Championships and why we are so excited to support the distinctly different journeys of Sean and Libor."

Sean McColl is a four-time climbing World Champion and harbors Olympic aspirations. Libor Hroza is one of the most well-known speed climbers in the world and has twice earned the title of European Champion.
In late 2016, climbing was officially approved as an event for the 2020 Olympics in Tokyo. It will include three disciplines: bouldering, speed, and sport climbing. Medals will be awarded based on the combined results of all three disciplines.