The Cliffside Coaster celebrated its grand opening at the Mt. Van Hoevenberg Olympic complex in Lake Placid, N.Y., on October 11. The coaster, designed and installed by ADG Mountainsides, claims to be the longest in North America.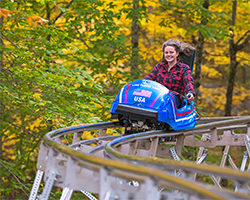 The coaster travels alongside the 1980 Olympic bobsled track and features Olympic-themed carts that ride over 7,000 feet of zig zags, dips, and turns at speeds up to 25mph. "The Coaster follows the alignment of the 1932 & 1980 Olympic Bobsled track as it descends the mountain. The views are amazing, and the curves get your heart pounding," ORDA President & CEO Mike Pratt said in a press release.

A unique feature of this coaster is the timed audio system, which features a soundtrack narrated by John Morgan of "Cool Runnings". Riders listen to Olympic inspired commentary as they make their way down the track engineered to replicate the historic bobsled track.
"The Cliffside Coaster is one of our latest and most thrilling additions to the Olympic Regional Development Authority venues, and part of our ongoing effort to modernize the entire Mt. Van Hoevenberg complex," said Governor Cuomo of NYS.
Learn more at www.mtvanhoevenberg.com/cliffside-coaster