After purchasing Liquid Planet Waterpark in Candia, N.H., at auction in January, new owner NLI immediately changed the park's name to Candia Springs Adventure Park. The next step was to bring the current waterpark up to code and build new attractions, including an aerial adventure park and zip lines.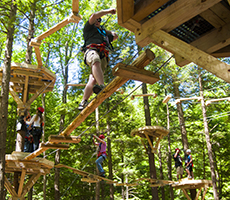 The self-guided adventure park consists of five areas with two levels of difficulty. The course leads participants across bridges, up ladders, and across zips. Guests can also get a bird's eye view of the park from the new 1000-foot-long tandem zip line. A ride in a Pinzgauer 4×4 military off-road vehicle bookends the zip experience to and from the park.

NLI has indicated that the park is a work in progress and there will be more additions to the 45-acre property. NLI also owns Whale's Tale Waterpark and Alpine Adventures in Lincoln, N.H.