The Forge: Lemont Quarries Adventure Park, a 300-acre outdoor recreation area outside Chicago that broke ground September 2018, is set to open this summer. The park, a joint public and private sector enterprise, will offer year-round activities aimed to exhilarate, educate and entertain guests. The centerpiece of the operation will be North America's largest outdoor adventure course, featuring more than 260 zip line, climbing and high ropes elements.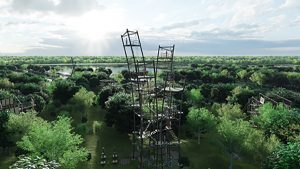 Designed and delivered by Bonsai, the adventure course consists of three interconnected towers and five activity nodes. The largest tower, the Skyscraper, stands just short of 120 feet and is modelled after Chicago's Willis Tower, which is visible from the structure. It will support four rappelling stations at 90 and 100 feet, two zip line decks at 66 feet, and numerous other elements like air stairs, horizontal logs, cargo nets, balance beams, and unstable bridges, as well as custom-designed features.

The two other towers, called X-Towers for their X-shaped design, are 87 feet high and include dozens of challenge course elements, 80-foot-high rappels, and fully traversable climbing walls on both sides. One of the X Towers will also have two zip line platforms at 52 feet.
The node system that connects the three towers through a series of mini zip lines and Tyrolean traverses features hundreds of additional obstacles. Each node is designed to allow guests to plot their own course through the attraction, with the challenge elements spread across three levels between 30 and 55 feet high that increase in difficulty.
Unique augmented reality (AR) experiences will be integrated into the aerial adventure course to enhance events like birthday parties and corporate retreats. "We believe incorporating augmented reality technology into the outdoor adventure and challenge course industry will create a specialized experience and enhance customer engagement," said The Forge co-founder Jeremie Bacon.
In the first year, the park will roll out two AR games, one geared toward kids and a more challenging one aimed at adults. The games will send guests on scavenger hunts around the park, testing problem solving skills and bringing digital objects into the real world.
Additionally, the park will have the longest zip lines in the tri-state area, with overwater zip lines of 850 and 1050 feet. It will also offer a fully netted kids' zone designed by Bonsai, five miles of hiking, walking and biking trails, a mountain bike course and pump track designed by the International Mountain Bicycling Association (IMBA), flatwater paddling activities, and events programming.
The park's amenities, including its restaurant, beer garden, and amphitheater, were engineered by Chicago-based firm Latent Design, and Chicago landscape architects Site oversaw landscape design and master planning for The Forge.