LuLu's Restaurant will be opening a Sky Trail aerial adventure course at its North Myrtle Beach, S.C., location. This is the second Sky Trail installation for LuLu's, which also has a course at its Gulf Shores, Ala., location.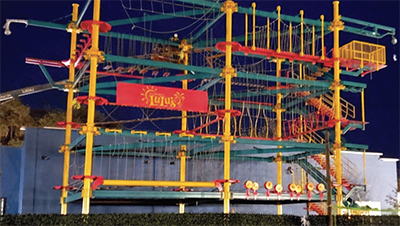 The 48-foot-tall Sky Trail course, designed and manufactured by Ropes Courses Incorporated, will include 26 elements such as themed lily pad stepping stones and a tipsy version of "Walk the Plank." Those who climb to the top of the three-story course can take the leap on a QuickJump free fall or climb back down the adjacent staircase.

"LuLu's has always been about family," said owner Lucy Buffett. "When we added our first Sky Trail at the Gulf Shores [Alabama] location, it was wildly successful and complemented our mission to create a coastal dining and recreational experience for families. The kids get to play in a safe environment while the grown-ups get to have a drink, enjoy delicious fun food and listen to live music."
Construction began on the custom pink, yellow, and turquoise installation in December 2018. Once complete, the course will be managed by FACE Amusement Company. Lulu's has three locations: North Myrtle Beach, S.C., Gulf Shores, Ala., and Destin, Fla.