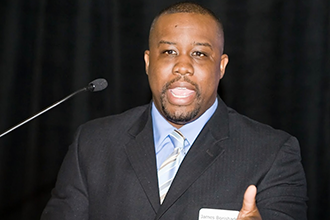 After five and a half years of service, James Borishade has stepped down as the executive director of The Association for Challenge Course Technology (ACCT).
"I have enjoyed my time working with the staff, the members, the Board and, mostly, the volunteers that keep this organization moving forward. I am certain I am leaving you in capable hands and I know ACCT will continue to do amazing things," Borishade said.

He added, "Our staff is very experienced and our PVM's, members and volunteers put a tremendous amount of passion, time and energy into this organization, which has made it a pleasure to work here. … I've learned a lot and believe that I have been able to have an impact on our industry, specifically in the areas of government regulations, strategic planning and growing the association."
The ACCT board of directors has appointed an interim management committee consisting of three board members and one ACCT staff member to fulfill the ED role until a new executive director is chosen.
An executive director search task force made up of six people has also been created to help find a new executive director. The Board hopes to have Borishade's successor in place for the 26th Annual ACCT Conference & Exposition Jan. 28-31, 2016 in Austin, Texas.