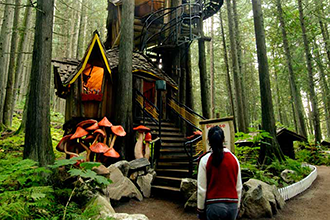 The Enchanted Forest, located along the Trans-Canada Highway near Revelstoke, B.C., is now under new ownership. In April, the Johnson family from Alberta, with deep roots to the area and season pass holders for the Forest's Sky Trek Adventure Park, purchased the attraction from longtime owners Rocky and Juliet Ehlers for $2.5 million.
Complete with a castle and cartoon-styled buildings, the 38-acre attraction opened in 1960, with continual additions and capital improvements since that time. The SkyTrek Adventure Park launched eight years ago, and includes a series of six zip line adventure courses. Last year the owners added a 60-foot climbing wall and a six foot swing and drop zone. On average, the theme park sees about 85,000 visitors a year.

Steve Daschuck, the real estate agent involved with the transaction, said inquiries from prospective buyers came from as far away as Nova Scotia, California, and China.