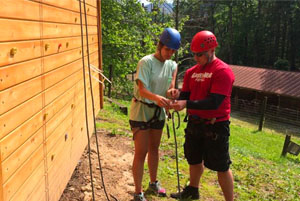 Challenge Towers is offering professional development training opportunities this September. The hands-on course, taking place in Blowing Rock, N.C., is an open enrollment practitioner certification training for those professionals seeking to boost their professional development and earn a Level One or Level Two certification upon successful completion of the course and exam.
Level 1 & Level 2 Practitioner Certification

Sept. 30–Oct. 5, 2019
This training is designed for both new and experienced course operators who wish to gain conceptual knowledge of the ANSI/ACCT 03-2019 Challenge Course and Canopy/Zip Line Tours Standards. This knowledge is broadly applicable to a variety of different course designs and operating systems. The training will last up to 40 hours over 5 days, with an additional day for testing.
This training is for new practitioners with no prior experience, course managers wanting more professional development outside their site, or L2 practitioners wishing to re-certify.
Cost: $900
Contact Joel McCombs, [email protected], 828-355-5929, for more info.
Learn more and register with Challenge Towers.