Challenge Design Innovations (CDI) has acquired glove manufacturer Rocks Edge Gear. CDI has been collaborating with Rocks Edge Gear since 2012 to design and manufacture gloves that meet the demands of the zip line and aerial adventure industry.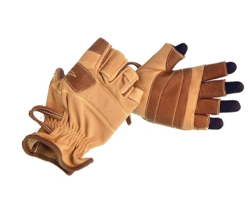 "Since building our first zip line tour in 2008, we had been searching for hand protection that could stand up to the rigors of working with cable, but still would allow for the dexterity needed to work with life safety equipment," said CDI owner Corey Wall. "We knew what we wanted but it didn't exist yet. [Rocks Edge Gear] had the expertise to make our ideas a reality."

Rocks Edge Gear customers will be redirected to High Country Hardware, CDI's gear and equipment division, for product information and online sales. Bulk orders can be processed by reaching out to [email protected] or by calling (404) 487-8721.
CDI will have samples of the glove line and zip line brake pad on hand at the Association for Challenge Course Technology conference in Raleigh, N.C., Feb. 6-8.