Cape Fearless Extreme, a new aerial adventure park in Columbus County, N.C., is set to open this spring. The park, set on 25 acres approximately 20 miles west of Wilmington, features four adult courses and one course for kids.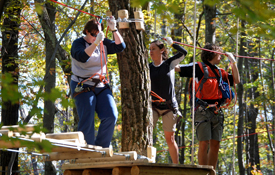 The adult courses are rated green (easiest) through black (most difficult) and increase in difficulty as the climber moves through a variety of obstacles including cargo nets, ladders, zip lines, Tarzan swings, and wobbly bridges. Tickets will be $50 on weekends, and will include one rotation through all four adult courses, which is estimated to take 2.5-4 hours.

The children's course will give kids age 7-11 the opportunity to climb and scramble across obstacles at 6 to 15 feet off the ground. Parents and observers can follow along on the walking trail. The $25 ticket includes two loops of the kids' course, which is estimated to take no longer than two hours.
Cape Fearless Extreme will be open for reservations in April. For more information visit www.capefearless.com.