Big Cedar Lodge, Mo., will be adding a Sky Trail Explorer from Ropes Courses, Inc. (RCI) to its attractions early this summer.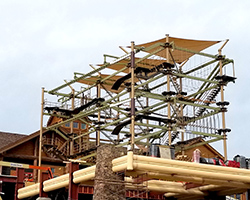 The 40-foot-tall, multi-level course contains more than 60 elements including rolling log, swaying ladder, and narrow balance beam, as well as two electronic Sky Rail zip lines and a QUICKjump free fall device. Participants are connected to the overhead steel tracking system to allow easy movement through the course. A Sky Tykes course for children ages 2-7 was installed last year.

"We want visitors to experience the beauty of the Ozarks in a whole new way that is unlike anything else in the region," said Johnny Morris, founder and owner of Bass Pro Shops and Big Cedar Lodge. "With live alligators and pythons living beneath this four-story wonder, it's sure to elevate the challenge and thrill of the ropes course, while being perfectly safe."
"We have had the privilege of building our attractions in many beautiful places around the world, but this spectacular setting in the midst of the Ozarks has been one of our most visually stunning locations," explained RCI founder and owner Jim Liggett. "We love projects that allow us to integrate with a beautiful natural environment—we hope it makes the experience that much more appealing for visitors and guests," he added.
The ropes course joins a roster of attractions at the luxury resort that includes bowling, a golf simulator, mini-golf, laser tag, bumper cars, flip zone, and climbing wall.
Editor's Note: This story previously referred to the installation as a "SkyTrail" course. The correct product name is "Sky Trail".