As the number of aerial adventure operations has exploded in the past 10 years, builders and their customers have broadened their creative vision. Recent openings highlight unique locations, customized elements, accessibility for those with physical or mental impairments, and other new ideas to compete in the marketplace.
We asked operators, builders, and industry experts to identify some of these new installations. Here are several examples of what we found.

Sky Trek Aerial Adventure Park
Builder: Challenge Design Innovations
Location: Idaho Springs, CO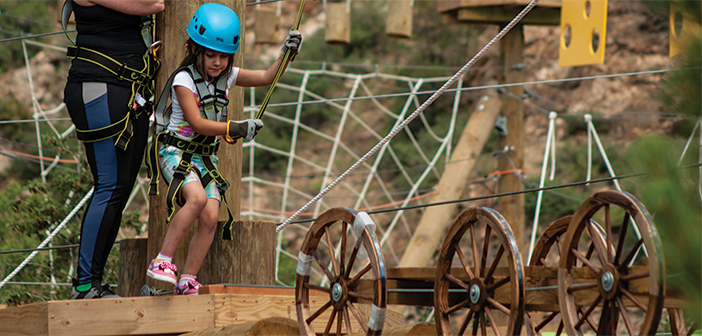 The Sky Trek Aerial Adventure Park opened in May 2018 after more than three years of planning, design, and site selection. It is part of the Colorado Adventure Center, which offers whitewater rafting, zip lines, and now, aerial adventure.
Designed and built by Challenge Design Innovations, the Sky Trek course features a Koala continuous belay system and more than 60 obstacles, many of them themed to incorporate Colorado's mining history—which also shaped the local community of Idaho Springs. For example, one obstacle involves climbing over and through a suspended mining cart. Course obstacles also pay tribute to other quintessential Colorado icons: whitewater rafting and (carved) bears. Three distinct courses offer a choice of easy (Copper), more advanced intermediate (Silver), or advanced (Gold) challenges.
The installation process itself posed some challenges. The permitting process in the narrow Clear Creek canyon required a lengthy investigation into floodplain and erosion control planning. Soil conditions and site constraints led Challenge Design Innovations to work closely with engineers to revise pole-setting methods to deal with the soils and the terrain generally.
Jack Zink High Adventure Base
Builder: Synergo
Location: Tulsa, OK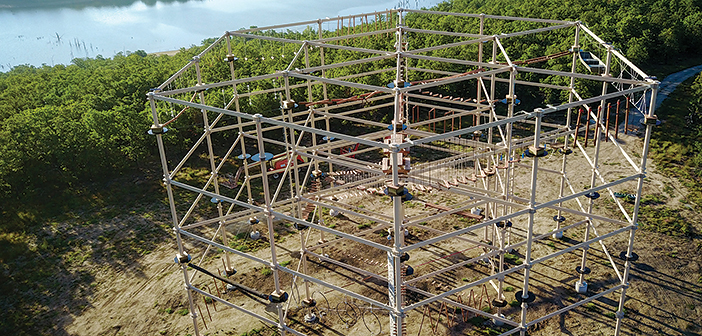 The Jack Zink High Adventure Base (ZBASE) is a leadership development program operated by the Indian Nationals Council to serve the Scouts and other adventure enthusiasts. The multi-activity leadership curriculum provides an outdoor discovery-based classroom designed to develop participants' leadership skills. The base, launched in 2016 and with some elements still under construction, is set on 35,000 acres of the Zink Ranch as well as 10,000 acres of Skiatook Lake.
The base hosts 12 individual adventure challenges that can be combined to create different types of programs, which typically incorporate four to eight activities. The Aerial Adventure Tower, designed and built by Synergo, is a pinnacle feature included in four different "treks." The three-story steel structure has a helix design that presents different levels of challenges at heights of 10 to 70 feet in the air. The tower incorporates 40 unique elements, with room to expand that number to more than 100 elements within the existing tower footprint. The course utilizes the CLiC-iT smart belay system as well as six independent automatic belays on the 50-foot climbing wall. Want to get back down to the ground? Adventurers can ride the 1,300-foot zip line.
Other adventure activities include a sporting clay station, mountain bike course, ninja course, treehouse/obstacle course, and extreme wilderness survival exercises. The base is expected to be fully operational in summer 2020.
Gatlinburg Sky Park
Builder: Experiential Resources, Inc.
Location: Gatlinburg, TN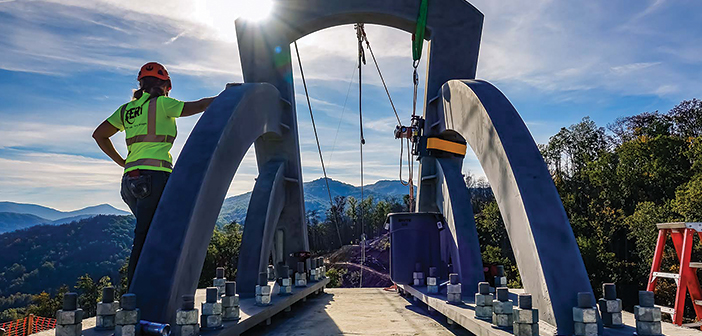 In November 2018, Experiential Resources, Inc., (ERi) was quite literally in the midst of installing one of the longest simple suspension pedestrian bridges in the world. The bridge, part of the nascent Gatlinburg Sky Park in Tennessee, is nearly 700 feet long. Glass panels at the center give pedestrians a dizzying look down into the valley below.
The bridge is the centerpiece of the Sky Park, a work in progress located at the scenic top of the Gatlinburg Sky Lift and adjacent to the equally new Sky Deck, which includes a visitor center, restaurant, and extensive terraced patio. The Sky Lift chairlift transports passengers from downtown Gatlinburg to the summit of Crockett Mountain, 500 vertical feet above the town. The Sky Park's other planned elements, beyond the bridge, include an elevated boardwalk, zip lines, and observation towers overlooking Great Smoky Mountains National Park.
The bridge is built on a foundation of $500,000 worth of micropiles, elements constructed using high-strength, small-diameter steel casing or threaded bar driven 92 feet into the earth, and installed by geotechnical engineering firm Hayward Baker. Half a million pounds of reinforced concrete at each terminus serve as footers for the bridge, whose six main structural cables weigh more than 6,000 pounds each.
At press time, the Sky Deck and Sky Bridge were scheduled to open by the end of 2018.
National Ability Center
Builder: Aerial Designs
Location: Park City, UT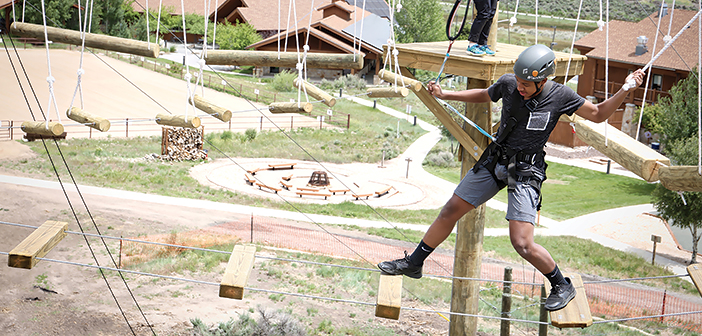 The National Ability Center is dedicated to empowering individuals of all abilities through adventure sport, recreation, and educational programs. Activities range from rock climbing to river rafting and mountain biking—and an aerial ropes course, which was recently renovated and expanded. The project focused on creating a variety of challenges that would test strength and agility, build leadership skills, and boost the confidence of the participants.
The renovation adds a variety of new innovative elements, including a wheelchair-accessible zip line, wobbly wheelchair rafts, wheelchair-accessible bridges, stilts, box cars, and more.
Early reviews indicate the renovation is a success. "The ropes course is my favorite activity at the NAC," said NAC youth participant Ainsley Moore. "It reminds me that I can conquer even the most difficult obstacles if I just believe in myself."
Gator Bayou Adventure Park
Builder: American Adventure Park Systems
Location: New Caney, TX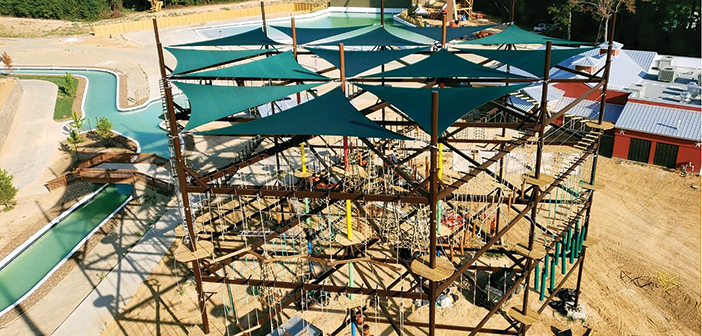 This new facility celebrated its grand opening in November 2018. Located just north of Houston, Gator Bayou offers six Adventure Towers and an Adventure Matrix aerial adventure course with a variety of zip lines, tours, climbing walls, and free falls in the mix.
The park's six Adventure Towers include a three-pole tower with a free fall device and climbing wall, as well as two six-pole towers, two two-pole towers, and a single pole tower. These support three unique zip line attractions. The Racoon Run zip course is designed for guests as young as five years old, while the Hawk's Glide course allows first timers to experience zip lining by zipping between two of the Adventure Towers and back. The large course, the Falcon Flight, is a multi-zip course between three towers. The zip lines range in length from 400 to 800 feet.
The Adventure Matrix aerial adventure course, dubbed the "Eagle Challenge," is a 60-foot-tall, four-tier structure with more than 50 unique elements suspended from its aluminum frame, which is topped by shade sails.
The addition of the aerial attractions turns Big Rivers into a year-round attraction. The installation took about three-and-a-half months to
complete.
Quarry Park Adventures
Builder: Bonsai Design
Location: Rocklin, CA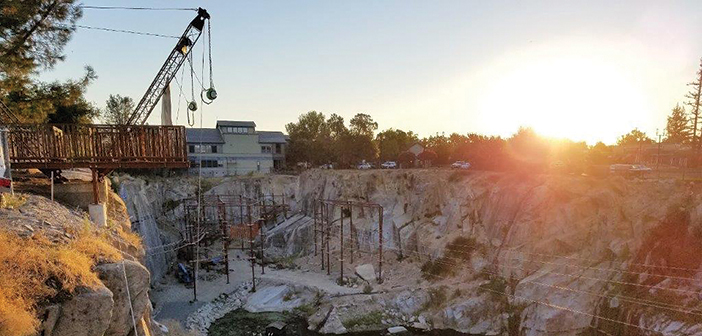 This creation blends functional art and fun for both tourists and residents in the former Big Gun granite quarry, which operated until 2005. The park sits in and around the 60- to 70-foot-deep quarry on a 5.5 acre footprint. Among the facilities are a three-level aerial ropes course with more than 60 unique elements, more than 1,200 feet of zip lines, a free-fall tower, and a belay-free kids zone. Via ferrata routes traverse the perimeter walls of the quarry at heights up to 40 feet above the quarry floor.
The site posed a challenge for the Bonsai Design construction team: drilling anchors into the granite walls. "The granite, it's nothing but 70 feet of granite they had to build in," says David Busch, president of Quarry Park Adventures. "It took longer than any of us anticipated, but it truly is worth it." Quarry Park celebrated its grand opening in mid-October 2018.
Quarry Park is at the center of a city-wide master revitalization effort that encompasses residential, retail, restaurants, and entertainment. Additional park installations, such as guest service facilities, are part of this broader plan.
Treetop Quest Philly
Builder: Treetop Quest
Location: Philadelphia, PA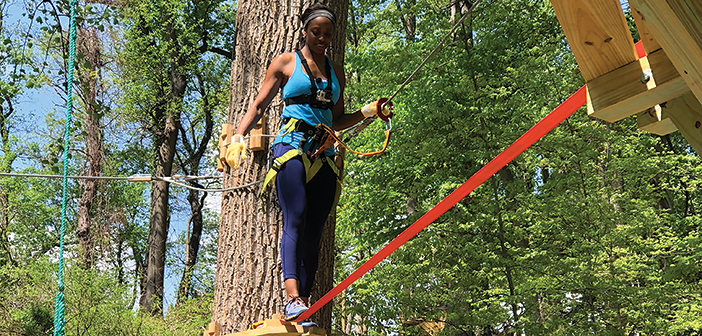 Treetop Quest Philly is the latest addition to the Treetop Quest lineup. Located in center city Philadelphia in Fairmount Park, one of the largest green spaces in the northeastern megalopolis, the treetop aerial adventure course has a view of the Philadelphia skyline from the canopy nearly 60 feet off the ground. It's a clever way to lure urbanites, especially kids, to explore and experience the forest in their midst.
The course has more than 60 unique obstacles spread across five levels, including a special "Chick'Pea" course for climbers ages 4 to 6. The Chick'Pea course was so popular in its first year that it will be expanded for the 2019 season.
Treetop Quest used a ratchet strap compression system to secure the platforms, and cable wraps with blocking to hold the structural components in place. The course uses a Vertical Trekking Innovations continuous belay system to allow participants to navigate the various levels of the course, which range from "easy" to "extreme."
The course took builders approximately two months to complete and opened in mid-May 2018.
Shepherd of the Hills
Builder: Ropes Courses Incorporated
Location: Branson, MO
Shepherd of the Hills is a historic homestead made famous by Harold Bell Wright's bestseller Shepherd of the Hills; the homestead stars as the main characters' home, and has been a tourist attraction almost from the moment the novel appeared in 1907. The current enterprise expanded its adventure park with a Sky Trail aerial attraction in May 2018. The park and homestead also includes zip line and canopy tours, Inspiration Tower—a 230-foot observation structure overlooking the Ozarks—plus ATV excursions, walking tours, and theatrical performances.
The three-level Sky Trail course brings participants 30 feet up in the air and uses RCI's redundant slingline belay system. The placement of the course on the mountainside, overlooking the Ozark Mountains, gives participants a unique perspective—and the impression of being much higher above the ground than they are.
The course took approximately two weeks to install. Due to the irregular mountainside terrain, special raised footings were engineered to accommodate the variations in ground level.
Tram Face Via Ferrata
Builder: Prisme
Location: Squaw Valley, CA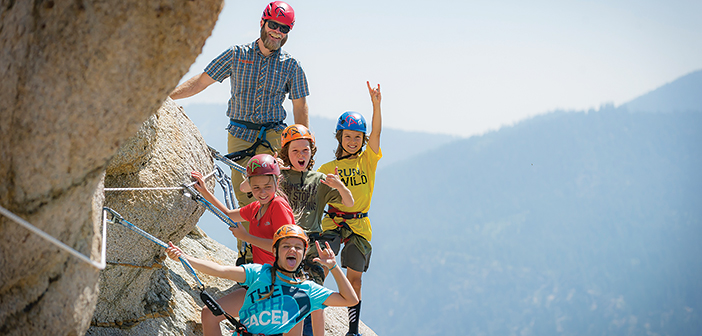 The iconic Tram Face at Squaw Valley Resort in Northern California, rising above the resort village that hosted the 1960 Winter Olympics, is known to skiers and snowboarders the world over, which made it an ideal location for a via ferrata installation.
Designed and built by Quebec-based Prisme and operated by Alpenglow Expeditions, the Tram Face Via Ferrata takes guests up two distinct routes approximately 1,150 feet in length. The first route opened in early October 2018 and the second route was completed in early November.
The Tram Face installation incorporates three-cable Nepalese bridges, two-cable monkey bridges, beam crossings, and chimney climbs. The routes are equipped with the Prisme Aeroline continuous lifeline system designed exclusively for via ferrata applications.
---
Have you opened a new operation in the past year, or will you be opening one soon? Keep us in the loop! Email sa[email protected] and tell us what you have going on.