Construction will soon begin on two via ferrata courses at California's Squaw Valley Resort near Lake Tahoe. The two courses will climb up and across the resorts iconic Tram Face, allowing even those without climbing experience to explore the high alpine terrain.
Via ferrata, an Italian term meaning "iron way," is a route of fixed iron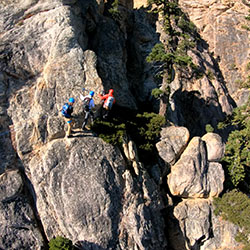 cables, rungs, and suspension bridges to assist climbers scaling steep and rocky terrain. (For more information on via ferrata, read "The Iron Way"). Alpenglow Expeditions, a locally based guide service, will run Tahoe Via Ferrata. The outfit's American Mountain Guide Association trained guides will run all climbs.

Alpenglow has partnered with Prisme—a Quebec-based builder of experiences-at-height with more than 120 via ferrata builds under its belt—to construct the routes. "Our via ferrata routes will let adventurers of all skill levels experience the exhilaration of a real climb," said Alpenglow Expeditions CEO Adrian Ballinger. "Best of all, entire families, regardless of experience, can take part in the same climb—and share the same breathtaking views of Squaw Valley and the Lake Tahoe region."
Alpenglow guides will lead groups of up to six people on half-day or full-day adventures. Challenges will include narrow chimneys and a "Monkey Bridge," which tests participants' nerve as they maneuver across a 50-foot cable span.
"We constantly look for new and exciting opportunities for adventurous families and groups of friends to explore our unique mountain environment," said Kyle Crezee, director of activities at Squaw Valley Alpine Meadows. "The Alpenglow Expeditions team has shown the highest level of professionalism and service with their lift-accessed backcountry ski tours, and working with them to provide an incredible summer adventure with via ferrata is an exciting next step."
The courses are expected to open in September 2018. For more information visit www.tahoevia.com.