Royal Gorge Bridge and Park is hoping to add a via ferrata attraction, allowing guests to scale the granite walls of its namesake gorge via several proposed routes, planned to be installed over the next several years.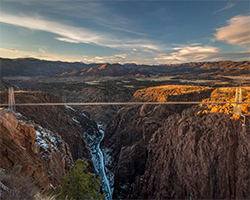 Via ferrata, an Italian term meaning "iron way," is a route of fixed iron cables, rungs, and suspension bridges to assist climbers scaling steep and rocky terrain. (For more information on via ferratas, see "The Iron Way" on this site). "Via ferratas are taking off in North America right now. It's designed for non-climbers with an adventurous streak who want to know what it feels like to be on a rock face," said Mike Friedman of Adventure Partners, the company designing and installing the routes.

The project is currently in the planning and proposed routing stage for the first of three proposed phases. The first route will climb up the south side (northern face) of the gorge, allowing guests at the park's visitor center and on the Royal Gorge suspension bridge to observe the climbers and, perhaps, to be inspired to join them.
The plan is a smart way to capitalize on the unique environment of the gorge. The canyon walls, over 1,000 feet high, consist of Pike's Peak granite that was formed nearly a billion years ago. "We will set ourselves apart from other via ferratas with the sheer drama and vertical foot advantage of the 1,000-foot walls. In fact, this system will be unlike any other via ferrata in the nation due to its verticality," said Brent Hargrave, COO of the park.
Royal Gorge Bridge and Park is owned by Canon City, Colo. In early January the City Council approved spending $325,000 to pay half the cost of the $650,000 project, while The Royal Gorge Bridge Co., which operates the park on behalf of the city, will pay the remaining balance. The municipal funding comes out of an investment fund dedicated to Royal Gorge park improvements and will be replenished by the 25 percent revenue share it receives from Royal Gorge Bridge Co.
The first route is expected to be completed by early May, in time to help the park celebrate its 90th birthday.