A new attraction in Germany featuring a Sky Trail course for adults and a Sky Tykes course for kids recently opened in Germany. Faszinatour, the European distributor of Sky Trail ropes courses for U.S.-based Ropes Courses, Inc., installed the courses. Alpsee Immenstadt Tourism will operate the attraction.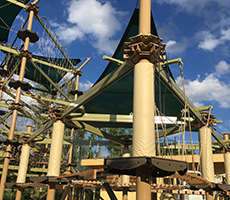 The eight-column Alpsee Sky Trail Explorer is nearly 43 feet tall and has three levels of elements, including a vertical rope ladder, cargo net, deep Burma buckets, zig-zag beams, and the crisscross walk. The Sky Tykes course stands almost eight feet tall, with elements less than three feet above the ground. The low profile is less intimidating for children, and allows parents to assist when necessary.

Both ropes courses have an overhead track design that allows participants to move freely from element to element and between levels without unclipping their safety harness.
"Alpsee Skytrail is the first and largest station for beginners to realize their self-confidence and find perseverance they'll need for their adventure quests. It allows you to explore your surefootedness and vertigo before you take on Great Alpsee," said Alfred Becker, CEO of Alpsee Immenstadt Tourism. "We call it the mountain for beginners."
Faszinatour has worked on more than a dozen Sky Trail projects with Ropes Courses, Inc., since 2004.