The Allegan Event Center, a 13,000-square-foot indoor adventure center in Allegan, Mich., celebrated its official opening. The entertainment center complements Allegan's double zip-line over the Kalamazoo River, which opened last summer.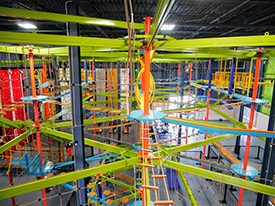 The facility is owned and operated by Jim and Michelle Liggett, founders of Ropes Courses, Inc. It features a two-story Sky Trail Discovery ropes course with two Sky Rail zip lines and 60 different elements, plus a QUICKjump free-fall exit from the second level of the course.

Additionally, the event center has 17 colorful Clip n' Climb climbing walls, a Sky Tykes ropes course for younger children under 48" tall, and the Vertical Drop Slide. Participants wishing to try the Vertical Drop Slide suit up in a skydiving suit and grab onto a handle as they are lifted up the face of the 30-foot-high slide. At the peak, participants release the handle and enjoy a 10-foot free fall before sliding the remainder of the distance on the slide.
"The opening of the Allegan Event Center is the culmination of several years of envisioning, planning, and construction by our entire staff to create an innovative and active destination where families, couples, teens, and kids can play together in a dynamic setting in any kind of weather," explained Jim Liggett.
RCI plans to also utilize the new facility as both a showroom and training area for RCI clients.