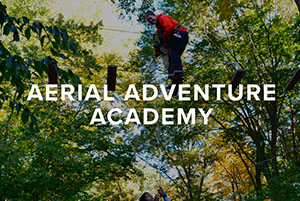 Registration is open for upcoming "Train the Trainer" and refresher courses offered by Aerial Adventure Academy. These new trainer courses are designed to prepare participants to train their own employees in the Monitor (Guide) Levels 1 and 2. Upon successful completion of the course, individuals will be awarded the Monitor Trainer (MT) designation.
Those wishing to pursue an MT certification must:

• be at least 21 years of age
• hold a current Monitor Level 2 certification or have equivalent High Ropes experience
• have a minimum of 2 years and 800 hours of professional experience as a certified M2 or equivalent High Ropes experience
• have the ability to train and assess others in categories M1-M2
• be prepared to take on at least 8 hours of continuing education annually to maintain the designation.
Course dates:
Training the Trainer
Oct. 22-25, 2019
Bridgeport, CT
Train the Trainer
Jan. 7-10, 2020
Virginia Beach, VA
Refresher Course
A one day course for those needing to renew their MT certification
Jan. 11, 2020
Virginia Beach, VA
For more information on requirements and to register, visit Aerial Adventure Academy.