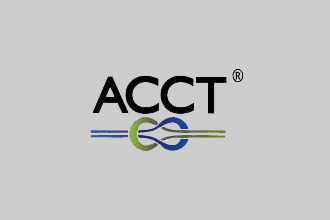 The ANSI/ACCT 03-2016 standards are now available online to members. The standards were approved by ANSI in January 2016 as a new national standard. Visit acctinfo.org and login to gain access to the standards.
ACCT is rolling out new membership categories to keep up with evolving marketplace needs.

The categories are:
Business to Client (B2C) Service Provider, Operator, Programmer: An organization offering challenge course/aerial adventure course programs or services direct to the public at a specific site or location.
Professional Vendor Member (PVM): A PVM of ACCT is a company that has successfully completed the Professional Vendor Member Application, including the accreditation process.
Business to Business (B2B) Vendor, Supplier, Manufacturer: An organization that provides services or products to operators, vendors, or manufacturers.
Industry Stakeholder/Affiliate Member: An organization or entity that has interest or concern in the Challenge Course and Aerial Adventure Course market.
Individual Member: A practitioner, student, or interested party who is employed by an organization that offers ancillary programs and services in the challenge course industry. Or, any person who is not directly affiliated with an organization that delivers challenge course programming or provides services to the marketplace. Individual members cannot be associated with an organizational membership.
If you have questions about which category fits you or your organization, or the status of your account, please call the ACCT business office at 1 (800) 991-0286 or [email protected].
Members of ACCT are also encouraged to join ASTM International. ASTM members receive a free Book of Standards with their membership. The applicable F24 volume is 15.07. Interested parties can also join the F24 Amusement Rides and Devices committee upon signing up for membership. Visit http://www.astm.org/MEMBERSHIP/participatingapp.html to join.