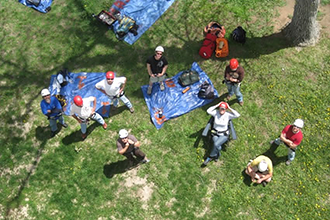 Leahy & Associates, Inc. will be offering "The In-House Trainer Workshop," April 13-15 in Boulder, Colo. As many operators do some level of in-house training, an in-house trainer is a key member of the staff. While a necessary part of an operation, there are risks, responsibilities, and industry requirements to be aware of.
The In-House Trainer Workshop will focus on the following areas:

Your qualifications as an in-house trainer:
overview and training philosophy
ACCT Standards: a description of the scope of training
the Qualified Course Professional (QCP): Trainer
trainer's portfolio
the trainer's development path
The structures/systems you will need to develop:
Course Operations Manual
Training Outline/Manual
job descriptions: student belayer, adult belayer, L1, L2, CCM, director/supervisor
staffing structures for daily operations
trainee pre-qualification: whom SHOULD you train?
exclusions: whom and what you SHOULD NOT train
Considerations for your administration:
time inventory to accomplish training
objectives: minimum hours attended, documentation of content and trainees
training/performance standards for your program
in-house testing/test protocol
liability, lawyers, and insurance: a brief look at your exposure
documentation
Participants must be at least 21 years of age and must own the 8th edition ACCT standards. Participants must have read chapters 2, 3, and 4 of the standards prior to the start of the course.
The 30-hour course costs $695. Discounts are available to early bird registrations.
For more information on the course, visit www.leahy-inc.com.