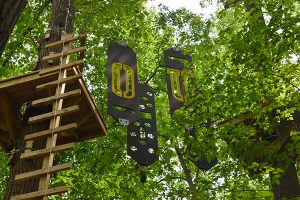 TreeRunner is slated to open a sizable adventure park this Friday, June 21, at Oakland University (OU) in Rochester Hills, Mich. The park boasts 11 zips and 60 obstacles. It will open with five aerial trails and increase to seven trails by the end of the 2019 season.
The park was built at no cost to OU—TreeRunner Parks, a for profit business based in Michigan, built the park in the university's northeast quadrant with an eye toward providing students, families and organizations "an opportunity to get outside and experience adventure in a beautiful forest setting," said Thomas Knuth, director of operations. Greg Jordan, director of university recreation and well-being said, "It's a win-win situation."

The university logo has been incorporated in several park elements and OU students, faculty and staff will be eligible for discounts on the $48 admission price. TreeRunner also has a slate of weekly park events scheduled this climbing season (June – November). "From themed Glow Nights, to College Night, Carnival Day, Pirate Adventure and weekly Night Climbing, there is something for most ages, stages, and ability levels to enjoy at TreeRunner at OU," said Knuth.
The park's color-coded aerial trails offer beginner through expert challenge levels and utilize an "always locked on" system of interlocking safety clips. The longest line is 160 feet and the highest platform is 40 feet off the ground. Climbers age seven and up will be eligible to hit the park, and TreeRunner will be offering group discounts and teambuilding experiences.