The 1000 Islands in Ontario is now home to an expansive aerial attraction called Skywood Eco Adventure Park. The new park, built by Treetop Trekking, just opened in July, and is operated by the St. Lawrence Parks Commission. It features several adventure courses for all ages and abilities, a zip tour, and an accessible zip line for those with reduced mobility. A Treewalk Village is expected to open sometime in August.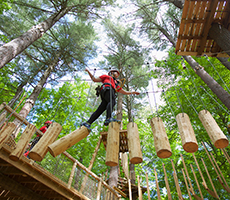 The five-acre site is part of the former Brown's Bay Campground on the 1000 Islands Parkway. The campground closed in 1991, but has since been enjoyed by hikers and visitors who marvel at the towering old-growth trees that populate the grounds. And talk about accessible: the Adventure Park is only a few miles from the main trans-Canada highway, route 401, and roughly equidistant from Toronto (three hours) and Montreal (two and a half hours), in an area that sees a great number of summer tourists.

St. Lawrence Parks Commission CEO and general manager Darren Dalgleish said, "The development of this new eco adventure park is the perfect marriage of SLPC's economic and stewardship priorities. … It is an exciting new experience that weaves perfectly into the environment, and will drive economic growth and benefits to our regional and provincial partners."
The Aerial Trek adventure course is made up of five individual courses that feature bridges, swings, nets, and zip lines. More adventurous participants can enjoy the zip tour, which is a guide-led journey through the trees across eight separate zip lines.
Kids are not left out of this adventure, as SLPC and Treetop Trekking worked to design The Discovery Courses and Treewalk Village for younger explorers. The Discovery Courses are for ages 5 and up, and include two aerial adventure courses built a few feet above the forest floor. Once the Treewalk Village is complete, kids ages 3 and up will enjoy a network of tree houses connected by ramps, nets, and slides. The course will be fully enclosed so there is no need for specialized belay or safety equipment.
The Discovery Zip Line is a standalone zip designed for people with reduced mobility, or people who require mobility aids. It also provides a good sampling of the aerial experience for able-bodied participants who may be apprehensive about taking on the full zip tour.
Building an accessible zip line has been on the company's radar, according to Treetop Trekking marketing director Mike Stiell. "After building and operating a temporary accessible zip line during the Toronto 2015 Pan Am Games, we have been looking for the right spot to build an accessible zip line that can be open on an ongoing basis," he said. "The new Skywood park … was the perfect location. We are proud to open up the thrill of zip lining to many people who would not normally be able to experience it."
For more information on Skywood Eco Adventure Park: http://www.parks.on.ca/attractions/skywood-eco-adventure-park/
For more information on Treetop Trekking:  http://treetoptrekking.com
For more information on Treetop Trekking's 2015 accessible installation for the Pan Am Games, check out our April edition of Park 360!