Wilson's Lifestyle Centre, a retail-meets-entertainment facility in Saskatoon, Saskatchewan, Canada, is home to the first 220-degree Sky Rail zip line by Ropes Courses, Inc.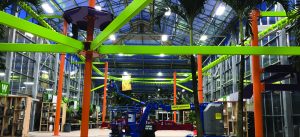 "It's exciting to work with customers on new and interesting ways to not only showcase their facility but also bring to light how much fun our amusement attractions can be," said Caitlin McMahan, research and design engineer for Ropes Courses, Inc.

The Sky Rail is incorporated into a five-pole Sky Trail Navigator ropes course featuring 13 elements across two levels. Located in a 45-foot-high atrium filled with 30-foot palm trees and various tropical plants, the colors and elements of the course follow the tropical theme of the space. The 200-foot-long sprout green Sky Rail leaves the second level of the ropes course and stretches out, curving around the edge of the atrium and returns riders to the ropes course platform.
The ropes course and zip line opened to the public on Sept. 28, 2017.