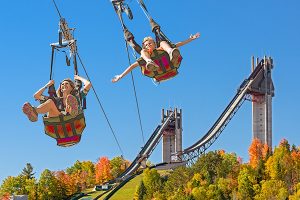 The Olympic Regional Development Authority (ORDA) has begun construction on a $3 million four-line zip line at the Lake Placid Olympic Jumping Complex in Lake Placid, N.Y.
The zip line is part of a larger project to overhaul all of the 1980 Olympic venues ahead of the 2023 Winter World University Games at Lake Placid. Funding comes from a $70 million appropriation approved in the New York state budget for capital improvements to the ORDA operated sites. At the Jumping Complex, development projects include the zip line, a new gondola, a new training pool, new infrastructure for the jumps, and a renovated scenic elevator, which will service the 120-meter ski jump tower.

Terra-Nova, LLC, was awarded the contract to design and install the zip line. The new Doppelmayr gondola will deliver guests to the zip line launch deck at the base of the 90- and 120-meter ski jumps. Zip-line riders will travel from the south side of the 90-meter jump to the outrun area, and the most extreme line is expected to have a 30-degree decline and reach speeds up to 60 mph. The attraction aims to offer non-ski pros a thrill similar to the experience of an Olympic ski jumper and is slated to open for the 2020 summer season.
Officials anticipate the upgrades to the Jumping Complex will not only improve the experience for athletes but also attract new recreationalists to the iconic site. "Now with the gondola built in, with doing a new glass enclosed elevator, and most importantly the zip line, it will allow for some new visitor and traveler activities," said Jim McKenna, president of the Regional Office of Sustainable Tourism, to Northeast Public Radio.