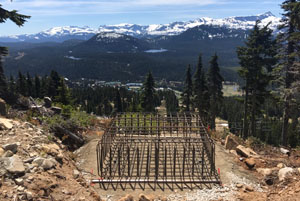 Construction is underway at Mt. Washington Alpine Resort on Vancouver Island, B.C., on a $3.5 million, 7,589-foot-long ZipTour by Terra Nova. It will be the largest zip line attraction on Vancouver Island, with four spans, each with dual, side-by-side zip lines, ranging in length from 1,643 feet to 2,372 feet. Riders will have spectacular mountain and ocean views as they descend a total of 1,400 vertical feet at an average grade of 14 to 24 percent, and at speeds up to 60 mph. ZipTour's unique trolleys allow riders to control their own speed throughout the descent. Dean Prentice, GM of the resort, expects "this will be an iconic ride for us."
Construction began in earnest last fall, when crews poured three out of the four foundations and towers for the bottom two lines. As of early June, concrete had been poured for the last tower of the lower lines.

As often happens in the mountains, construction was subject to some unique environmental concerns. Mt. Washington is home to a key population of endangered Vancouver Island marmots, and the resort works closely with the Vancouver Island Marmot Recovery Foundation to support the species' growth. To that end, crews were careful not to disrupt any marmot dens on the mountain.
The ZipTour will open in two phases. First to open will be the lower two dual spans. Called the Hawk Excursion, the tour will cost $89 for adults, $79 for youth or seniors, and $59 for children under 12. The full tour is expected to open before summer's end; called the Eagle's Flight, tickets are $129 for adults, $119 for youth or seniors, and $99 for children under 12.
The resort hopes to operate the zip tour through the fall and to have it open for the Christmas holidays and spring break.