With the current pandemic limiting operators' ability to hold in-person trainings for staff, several suppliers are launching online training programs.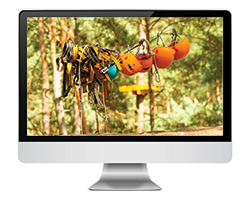 Be A Better Guide's Online Tourism Academy has several online training programs available, including a team training program covering customer service, public speaking, people skills, storytelling, and many more of the soft skills that can make the experience for a guest. Learn more here.

Experienced Based Learning (EBL) has launched a Facebook Live "Virtual Tech Training" program set to start Wednesday, April 8. The three-day program will cover equipment components, operations, and care. Learn more and RSVP here.
Training Wheels is offering an online Experiential Facilitator's Guide. Learn more here. In addition, principal Michelle Cummings is hosting a third online session, More Virtual Team Building Games, on Zoom April 9 at 3 p.m. EDT. Register here. Cummings' first Zoom session in late March drew 490 attendees.