Castle Rock Zip Line Tours in Colorado hosted the grand opening of its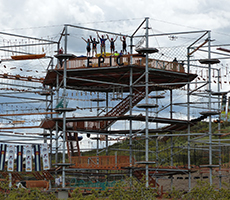 new Epic Sky Trek Tower on May 30. The tower, manufactured by KristallTurm, features three levels and more than 100 unique, adventure-themed elements including a whitewater raft, ski bridge, snowboard balance bridge, sea kayak traverse, and more.
Castle Rock owner Ty Seufer played a role in designing the tower and its elements, which are custom-made to match some of the other adventures visitors can enjoy in the area. It took the construction crew just 30 days to complete the structure, despite having to work through a surprise early-May snowstorm in order to open the tower for Memorial Day weekend.