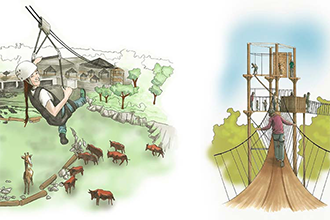 The Toledo Zoo opened its Expedition Africa! aerial adventure course in May, giving visitors a unique vantage point to observe the animals in the exhibit.
The attraction includes a challenge course with obstacles such as rope bridges, swinging log crossings, horizontal climbing walls, and a 30-foot free fall. There is also a zip line, which starts 80 feet above the Africa! exhibit and travels 760 feet over giraffe, watusi cattle, wildebeest, and other residents of the exhibit.

Guests can also enjoy the Sky Bridge, a series of three sturdy foot bridges, 250 feet in length, separated by an overlook platform with a spectacular view of the Africa! exhibit.