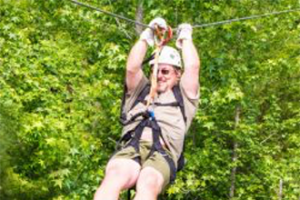 Lake Guntersville State Park in Alabama celebrated the grand opening of its new aerial adventure attraction over Memorial Day weekend. The Screaming Eagle Aerial Adventure attraction consists of 10 zip lines ranging from 75 to 400 feet in length. This is the first completed project to result from the partnership between Alabama State Parks and Historic Banning Mills/American Adventure Park Systems.
The course, which takes approximately two hours, features a glove braking system. Trained guides use hand signals taught in the pre-flight ground school to help usher guests into each platform.

The partnership has several other projects in development, including a second course at Lake Guntersville with zip lines ranging from 300 to 2,100 feet in length.
Alabama State Parks: alapark.com
Lake Guntersville Zip Line: lakeguntersvillezipline.com
Historic Banning Mills: historicbanningmills.com