Kerfoot Canopy Tour in Minnesota celebrated the grand opening of its new aerial adventure park on June 1. The new attraction adds to the operation's existing canopy tour, which originally opened in 2013 with 10 zip lines and expanded to 14 after its first summer in operation.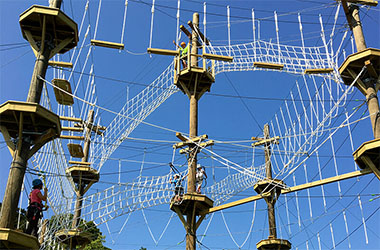 Construction began on the adventure park, Kerfoot's latest expansion, in late 2017. The three-story aerial course was designed and constructed by Challenge Towers and features 21 elements reaching heights up to 45 feet above the ground.

The aerial course utilizes the Bornac SSB smart belay system. It takes approximately 2.5 hours to complete the course from gear up to gear down.
This is not the first time owner Lee Kerfoot has expanded operations, either to an existing site or a new facility altogether. In 2016 he opened a second canopy tour, Brainer Zip Line Tour in Nisswa, Minn. Read about his approach to expansion in this Park 360.
Learn more about Kerfoot Canopy Tour here: https://www.kerfootcanopytour.com/