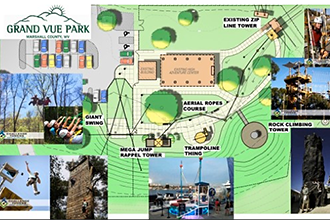 West Virginia's Grand Vue Park, a family recreation and entertainment center 80 miles southwest of Pittsburgh, is broadening its appeal by adding adventure park elements. It is slated to receive $2.5 million in upgrades, including an aerial ropes course, a rappel tower and four treehouse-style cabins within the next year. The upgrades have been funded from revenue generated from oil and gas leases.
Currently, Grand Vue Park has an aquatic center, paintball course, mini-golf, par-3 course, two disc golf courses, mountain bike trails, and three bird feeder stations, among other activities.

The ropes course and rappel tower will be located at the new High Adventure Midway aerial adventures section of the park, below an existing zip line that began the park's transformation in 2012. This area will also include a giant swing, a trampoline and a 28-foot climbing wall. It is slated to open in spring 2016. The tree-house style cabins are set to open in fall 2016.
"This past year the board took on the task of a new master plan and the building of the park foundation. Also, we entered into a new partnership with Chevron and signed a complete non-surface oil and gas lease which will allow us to grow and maintain the beauty that is Grand Vue Park," said general manager Craig White.
The $2.5 million upgrade is one of the most significant changes at Grand Vue in last nine years, White said.