Dear API Reader,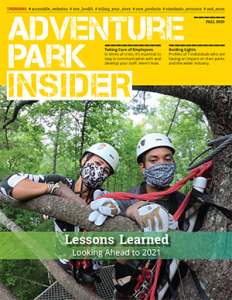 We are so excited to share the Fall issue of Adventure Park Insider following the challenging summer.

In this issue we look at the lessons learned from operating during the pandemic and look ahead to 2021.
This special digital issue allows you to:
Access the issue from anywhere, on any device.
Enjoy the highly interactive content, including links, videos, and more.
Easily share articles with your team members.
Be well,
Olivia Rowan
Publisher

Letter from the Editors
Learning from 2020
Park Briefs
Virtual conferences, wildfire insurance, and COVID impacts on camps and experiential ed.
New Products
Novel items for COVID times and beyond.
Brand Storytelling
Tell your story to stand out in the ever-churning social media universe.
Look Good, Feel Good
Uniforms don't just help identify staff, they can set the tone for your park.
Outside the Classroom
As the school year started virtually, creative operators offered outdoor classrooms.
Website Accessibility
The next frontier in ADA compatibility is website accessibility. Yes, that's a thing.
Park Spy
"Do I have to wear a mask in your park?"
Understanding Safety Systems Standards
A big picture look at how existing safety systems are treated as standards evolve.
One Eye on the Trees
Signs of health and decline that all staff, and especially guides, should watch for.
Summer 2020: What We've Learned
Challenges, positives from COVID-19.
Staff Care in the Time of COVID-19
Communication and staff development are especially important in uncertain times.
Park 360: A Recipe for Success
A look at three parks, each of which found its own mix of COVID practices and innovations.
Guiding Lights
Profiles of seven up-and-coming leaders.