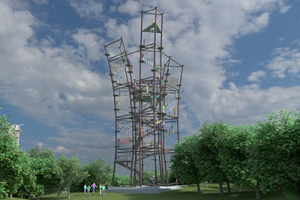 Construction of Lemont Quarries Adventure Park, a 300-acre outdoor recreation area 22 miles outside of Chicago, began Sept. 18, 2018, and is scheduled to open in summer 2020. The new park will feature what the owners are calling the tallest and largest aerial adventure course in North America.
The aerial adventure course will be the highlight of the park's many activities, according to co-founder Chris Gladwin. Built by Bonsai Design, it will have three free-standing towers—one that is 12-stories tall—and more than 260 elements. There is no linear path through the course. Instead, guests will be able to chart their own route. And, said co-founder Jeremie Bacon, "The design of our aerial adventure course prevents bottlenecks and slowdowns so that no matter what your skill level, you can navigate the course at your own leisure and speed."

Other features of the park include four zip lines, two 908-foot lines and two 1092-foot lines, a mountain bike pump track, an X-wall climbing wall, a fully-netted children's playground, and a network of biking, hiking and running trails. The park will also offer activities such as flatwater kayaking and stand-up paddle boarding, as well as various amenities, including a restaurant, a beer garden, an amphitheater, and a concessions stand.
Gladwin and Bacon see the park as both an opportunity to conserve green space and bring a new community-focused outdoor experience to Chicagoans and visitors. Lemont Quarries is being developed through a public-private partnership between The Village of Lemont, Lemont Township, and The Forge, the company behind Lemont Quarries Adventure Park.