One of the greatest thrills of being involved in a rapidly evolving industry, such as the world of aerial adventure, is the constant flow of innovations. In every sector of this young industry, technology has the potential to powerfully shift the future of adventure, safety, and business. Here, we'll explore three different examples of product innovation and look at the underlying process through which the products were developed. We hope this will inspire more of the same.
DMM iD
COMPANY BACKGROUND

DMM, a lesser-known (in North America) rigging hardware manufacturer based in Wales, has been making carabiners for almost 40 years. DMM makes 100 percent of its metal products, and an increasing number of textile products, at its factory, which shares a building with the company offices. There's literally no distance or barriers between office staff and factory staff, and that affords DMM a rare agility in product development.
The company designs and produces quality carabiners with ergonomics and function in mind. Its big breakthrough, though: creating an integrated UHF RFID tag, to help ease the chore of managing and inspecting a large fleet of connectors—as well as other PPE.
ISSUE TO RESOLVE
Properly organizing, inspecting, and documenting the many pieces of hardware utilized within a park's safety systems can be a challenge. DMM likes to think its iD hardware is the "missing link" of PPE management.
DMM is not the first company to seek a way to efficiently and effectively record carabiner inspection. Barcodes and QR codes make some PPE easier to manage, for example. But they don't work well for connectors. A carabiner is hard to mark with an identifier. It's small with round surfaces that must be smooth so as to not fray the rope or interrupt its function, and it's used in the toughest of work places, so it needs to be durable. Any mark cannot interfere with or diminish these qualities, and must withstand heavy use so that, when scanned, it records accurately.
PRODUCT DESCRIPTION
DMM took a two-prong approach to the hardware solution by producing a range of PPE with built-in iD, and then a range of retrofit iD tags for older equipment.
The built-in iD products include a variety of locking carabiners, as well as sewn ropes, lanyards, pulleys, and slings. The tags are positioned for optimum durability, and provide incredible amounts of product info for each item. The company's short supply chain allows DMM to provide information specific to each unique serial number for each item of PPE. This information includes product certifications, weight, instructions, an image and other useful data. It also enables a future-proof delivery system that provides real time updates.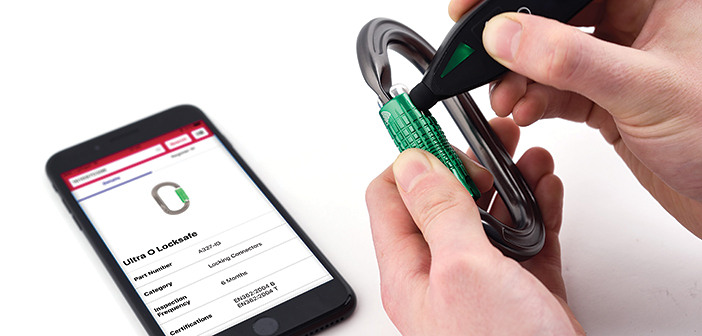 The retrofit iD Tags (UHF RFID), which were developed through DMM and supplier partnerships, deliver a range of compact and durable RFID tags that are suitable for use on PPE. The range consists of a 7mm iD Dot that can be glued onto devices; an iD Zip Tie for tagging harnesses, kit bags, and textiles; an iD Helmet Sticker, which is approved for use on plastic helmets; and an iD Rope Label, which can be fitted to any rope with a super durable pre-cut adhesive heat-shrink.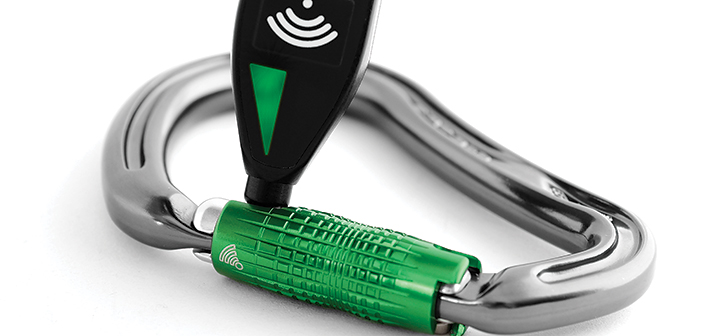 HOW IT CAME TO BE
The idea for RFID tags came about almost by accident. Papertrail—a digital record-keeping safety management software company—moved its offices next door to DMM. In talking with Papertrail executives, DMM learned Papertrail was developing an app. One of the Papertrail staff said, "Wouldn't it be cool if your carabiners were scannable?" and the notion began to take shape.
It took four years of development for a solution to emerge. RFID specialists repeatedly told DMM that reading small RFID tags below the surface of metal items was impossible. And then, suddenly, it was possible: technology caught up with the concept, and the necessary combination of tag and reader could be developed. With some additional collaborations, time, and a bit of luck, the latest technologies unlocked the task and the idea became a reality.
The next step will be to develop iD PPE products with UHF RFID tags that are scannable from a greater distance than the currently available "on contact" tech.
TREETOP TREKKING THE WONDERNET
COMPANY BACKGROUND
For Cédric Chauvaud, the creator of the Parcabout netted aerial adventure system—aka The Wondernet, in North America—sailing on the high seas provided inspiration and expertise. As a master rigger for ocean racing teams, Chauvaud has broad knowledge of ropes and nets. His ability and artistry in working with them is evident from his installation at the Caldi Wind Festival in Corsica in 1997: a whale fabricated entirely from nets and ropes.
While working with the Radeau des Cimes scientific expeditions on the biodiversity of forests, the final piece of inspiration fell into place to create Parcabout, the net-based aerial adventure parks now popular in Europe and Asia.
Enter Treetop Trekking. Founded in Quebec 18 years ago, the aerial adventure park builder, owner, and operator has a reputation for delivering unique products to North America, such as its Treewalk Village. Aiming to expand and improve its product offerings, Treetop Trekking approached Parcabout to form a partnership, and is now the exclusive distributor and builder of Parcabout, aka Wondernet, products in North America.
CREATIVE THINKING
Many innovations seek to resolve a central problem. But the evolution of the Wondernet system is not tied to a dominant issue. Wondernet is not just an improved product; it helps to consider it as a new experience, or even a new subcategory within the aerial adventure realm. Like recreational zip lines and aerial trekking courses themselves, some of the most successful innovations fill a niche no one knew existed.
PRODUCT DESCRIPTION
The Wondernet system is a network of net structures connected to trees or poles via rope and wire rope. The installations are more elaborate than that sounds, especially when incorporating customized modules that include trampolines, walkways, tunnels, slides, and rope ladders, among other things. Each module is designed to encourage people to fluidly move around and socialize freely, because each module can be enjoyed as an individual or as a group.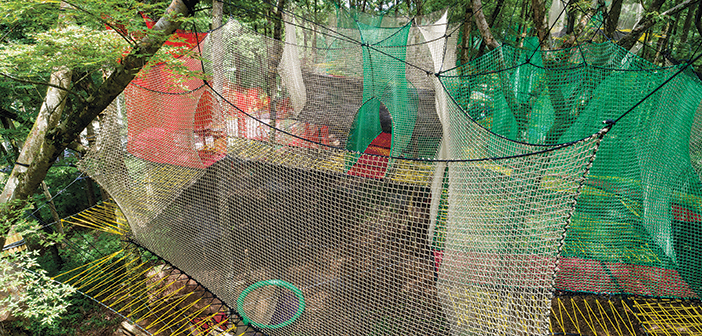 Ease of movement and socializing are integral to the experience. Wondernet needs no personal protection equipment, so children and grandparents alike roam freely. Operational staffing requirements are minimal.
Wondernet doesn't aim to be competition for challenge courses, but rather a complimentary experience that transcends age and physical ability, while encouraging a strong social dynamic.
PRODUCT DEVELOPMENT PROCESS
Drawing on his sailing expertise and scientific expeditions, Chauvaud knew that aerial net installations would require a great deal of design and thought for them to work, while also protecting the integrity of the tree-based support system.
The first challenge was designing a series of nets that were functionally appropriate for the wide variety of modules, such as slides, trampolines, and tunnels. The processes of manufacturing these module designs are vastly different, due to differences in knots and materials.
The second challenge was finding netting material with the necessary qualities of flexibility and rigidity to construct the modules, but also durable enough to handle, say, 20 grown adults bouncing around on a trampoline net. These two criteria are worlds apart and typically do not yield to each other.
Chauvaud found the right materials and processes in deep-sea fishing nets, offshore racing rigging, and trampoline nets on catamarans. The woven nets used in these applications have a common origin of manufacturing techniques and have stood the test of time in extreme conditions. So why not use it for creating a unique, safe, adventure experience?
The Parcabout/Wondernet workshop is located in the heart of the Brittany region of France, on the island of Groix, where fishing and sea trade is a way of life. Using the various industry ropes, traditional and modern manufacturing techniques, and plenty of creativity, the company can produce just about any form of netting, and then suspend it in the air for endless amounts of gravity-defying fun.
THE FLYBOOK GROUPS
COMPANY BACKGROUND
Founded in 2006, The Flybook builds reservation software used by a variety of outdoor adventure operators. The software was conceptualized and designed with one foot in the tech world and another in a set of fly-fishing waders; its founders wanted to improve how fly fishing guides managed their businesses.
THE FLYBOOK INNOVATION PROCESS
A quote from Albert Einstein inspires the folks at The Flybook: "If I had an hour to save the world, I would spend 59 minutes defining the problem and one minute finding solutions."
Stubborn, frequently-voiced problems are often symptoms of deeper issues. Quick fixes often solve only the surface issues and can waste resources that could otherwise be used to tackle the root cause. So The Flybook has two general rules to evaluate a problem and get to a solution:
1. Ask why, five times. This process compels careful thought. Answers need to be grounded in fact: they must describe things that actually happened, not guesses at what might have happened.
2. Be agile. To move quickly and easily, The Flybook divides tasks and solutions into short phases of work, frequently reassesses progress, and adapts, cycling through several phases until a solution, or solutions, emerge.
THE GROUP SALES PROBLEM
Group business accounts for significant revenue at many parks and programs, but often requires a large amount of resources to manage. The Flybook received a number of "symptom"-type feature requests from clients that exposed the underlying problem: Group sales people spend more time managing groups that have already booked than chasing downnew groups.
Here's an example of how this discovery came to light. A client wanted the ability to flag reservations to note that waivers still needed to be signed. The Flybook started asking "why": 
Why 1: Why do you need a flag on the calendar? 
Response: So we can see what reservations to follow up with.
Why 2: Why do you need to follow up with reservations? 
Response: We want to ensure all waivers are signed and reservations paid in full several days prior to arrival. 
Why 3: Why are groups not signing waivers ahead of time? 
Response: It's difficult for the group leader to take control and manage the process.
Three "whys" revealed the real problem: Group leaders did not have the tools to easily share and track waiver links. Adding a flag wouldn't address that.
THE SOLUTION
Over time, with a phased development approach, gathering data, and adapting, the following products have been developed to solve this group sales challenge: 
Fully integrated waiver system. Waivers and individual tickets are now tightly coupled. The software knows, and can show, how many waivers have been signed, and how many are still outstanding for any given reservation.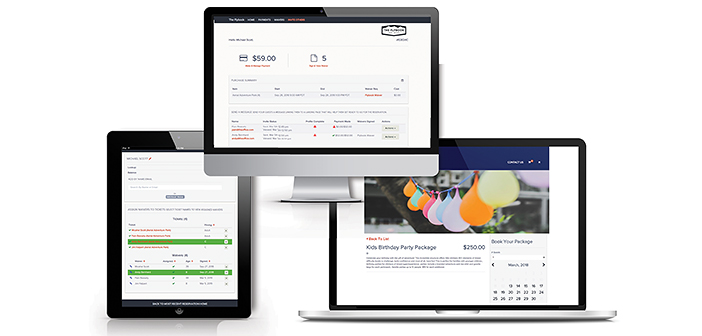 Customer portal. The Flybook's "client terminal" gives group leaders a tool to track waiver signing and payments. Leaders can send invitations via text or email, and when waivers are signed or payments made, they are recorded in the back office reservation system as well as in the group leader's portal. Group sales reps now spend less time doing administrative tasks and more time selling.
Sell group packages online: Another feature called "packages" automates the process for standard events, such as birthday and bachelorette parties. That saves even more time.
Segmenting and selling to group types: With The Flybook's "ticket pools," operators can create unique ticket types that are sold only to groups, but share capacity with general admission. This allows them to track group sales by segment, and also not over-sell start times.
WHAT'S NEXT
Building on the last solution, there is an opportunity to better analyze group sales. Are school groups more profitable than church groups? Which segment generates the most repeat business? How are group sales tracking year-over-year? Once the data is in the system, the next step is presenting it in a consumable way for owners to make important decisions for growth.
CONSIDER THE POSSIBILITIES
These examples show that the aerial adventure industry remains ripe for innovation in every facet. The Flybook demonstrates how software developers are creating solutions for the unique demands of the industry. The Wondernet shows how aerial exploration can be made available to all ages and physical abilities, while reducing operational burdens. DMM's integration of new technology in its hardware demonstrates the value of new technology and partnerships in seeking to make the aerial world a safer and more efficient place. 
And they are just the tip of the iceberg of what we, as an industry, can deliver to the world at large.