Today's adventure park industry is filled with friendly and familiar faces. But have you ever wondered how they got here? From sales to sailing to the military, we talked to six key players about life before and since venturing into the industry, and what they've learned along the way.
The Bushwackers
Mike and Donna Holder
(as told by Donna)
Owners, Historic Banning Mills,
Whitesburg, Ga.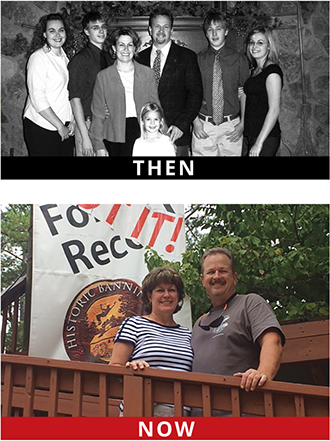 Describe your professional life before the adventure park industry.
Mike retired as a lieutenant colonel serving with the Active U.S. Army/Reserve and National Guard. He started in the infantry and went on to be an Army Ranger and, later, a commissioned officer, and medevac. He also served in military intelligence, and aviation, where he flew OV-1Ds and helicopters. He also ran a residential and commercial construction company. I worked as an RN for 25 years and assisted with the construction company.
How did these skills translate?
Zip lines have been used in the military forever, so Mike was super familiar with them. And the construction experience—it all kind of went together.
You bought the land where Banning Mills sits in '98. What motivated that?
We looked at the property more as a prospect to develop it. But when we came to see it, Mike said, "We need to move here." When we bought the property, it was in bad shape. There was a clubhouse and Olympic pool that had black water and things that moved under the water. We moved into the clubhouse, began clearing the property, and found old roads and ruins. We finally hired a local historian to help us, because by then we were renovating, adding lodging, and working on the teambuilding course and zip lines. We opened in 2000 as a bed and breakfast and started doing teambuilding with one of the first high-speed zip lines in the U.S.
Describe your learning curve.
We mostly learned by experience. We started with teambuilding, but could see that adventure was quickly becoming the new vacation experience. People were looking for experiential things to do with their families. We didn't know about ACCT or PRCA until we met Dan Pervorse, who at the time was president of ACCT. Dan helped us with some of our first lines. When it came to working out the operations end of the zip line tour, Dan said, "Mike, at this point, no one knows more about it than you!"
How about now?
We have 57 rooms, 65 RV sites, tent camping sites, and five family cabins. We also have seven tree houses. We have added on to the zip line course and have more than 10 miles in the trees, with four half-mile lines and a 3,400-foot line included. We have a Guinness world record for the largest course. We have three suspension bridges over 600 feet long over the gorge, and the tallest freestanding climbing wall in the world (150 feet). We have a 100-foot free fall and three aerial adventure parks all on site. We also do horseback riding, teambuilding, kayaking, and have a day spa. We have four meeting venues and our own onsite chef. We also have six (other) parks, and more to come.
How has the industry evolved?
I think the trend has been teambuilding moving to zip line canopy tours to, now, aerial adventure parks with multiple things to do. I think one big change is closed belay systems and away from transfer systems.
Parting thoughts?
I think the main point in getting to a specific place is starting with what you have, capitalizing on that, constant evaluation, and willingness to accept change. If you realize things are not static, and you look for what you can improve and add to what exists, then you can keep effectively moving forward.
The Archaeologist
Sam Giffin
Outdoor Adventure Supervisor, Forest Home, Forest Falls, Calif.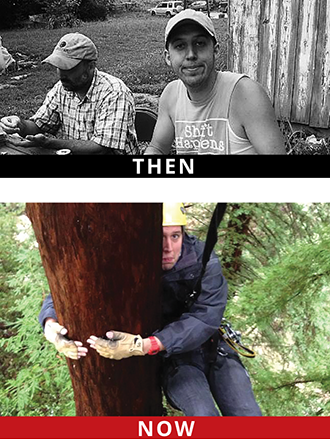 Describe your professional life before the adventure park industry.
I worked for the state of Kentucky's Archaeological Survey. A lot of our day-to-day work was task-driven, washing artifacts and curating in the lab, and surveying fields. The work environment was very antisocial—most of my peers worked with headphones on—and not people-driven. It was very draining.
What prompted your move to adventure parks?
I had a quarter-life crisis and decided to move to the Bay Area, where I had interned in college. I worked for a non-profit called Serve the Peninsula that provided PE to schools. When the program lost funding, I applied to be an intern at a camp and conference center called Mount Hermon. After my internship, I taught environmental education and started working for Mount Hermon's Redwood Canopy Tour. I was drawn to the aspect of connecting with people and connecting them to nature. And, it's fun. When your work is play, it makes it easy to work.
How did your skills translate?
Archaeology can be very detail orientated. Small details on a section of pottery can dictate if it came from one culture type or another. I think the same can be said of inspection and construction in the adventure industry. It can be easy to miss a crack in a carabiner's gate or a buckle on a participant's harness.
What sort of challenges did you face? Did anyone serve as a mentor?
The biggest challenge was going to a totally new industry with no educational background and having to learn from scratch, which is actually a very freeing experience once you embrace it. I had two women who set great examples at Mount Hermon: Holly Hoeksema, who was the challenge course manager at the time, and Josie Shafer, who was the canopy tour manager.
What are you doing now?
I oversee all of Forest Home's outdoor adventure activities, trainings, inspections, and staff. Forest Home offers teen, child, and family Christian camp summer and winter programming. Our facilities are available to the public if they would like to be part of a retreat, but not to day-use guests.
Any advice for someone getting into the industry?
One of the best parts of our industry is that there are so many knowledgeable people who are willing to help and grow others who have a desire to learn. Creating connections and not being afraid to ask questions of those who may be more experienced and knowledgeable has been extremely beneficial to me.
The European Agronomist
Bahman Azarm
Founder and President, Outdoor Ventures, Fairfield, Conn.
(Bahman hails from Villars-sur-Ollon, Switzerland)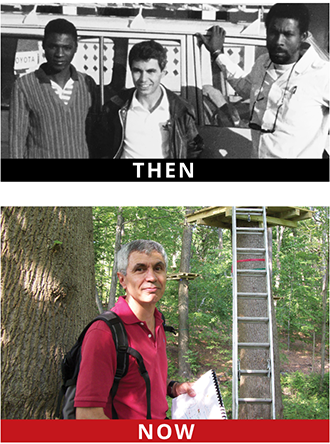 Describe your professional life before getting into this industry.
It was all about speaking French and having a MS degree in agronomy, which has to do with soils and agricultural seeds. I worked with USAID (U.S. Agency for International Development) in West Africa. In the U.S., I started working with my father-in-law in construction, eventually running a residential and commercial construction company, until Outdoor Ventures started demanding my time fully.
What introduced you to this industry?
I went back to Switzerland for a high school reunion, and one of the activities was a trip to this strange place called "Parc-Aventure." It was my introduction to the Swiss-style adventure park concept. My family was with me on the trip, and the climbing experience transformed my daughter. She gained new appreciation for the outdoors and it increased her self-esteem. The activity left such an impression on me that after many months home, I decided to go back to Switzerland and try out as many adventure parks as I could. It turned out that the first one was by far the best, and it happened to be owned by a friend of a friend. They were delighted to be asked to come to the U.S. to design and show us how to build and operate a park. That was in 2008.
Tell us about bringing components of European parks to the U.S.
Knowing that Swiss ropes course construction methods might be different than what was practiced in the U.S., I asked a then-local ropes course builder to help us build our first park. From the beginning, it became evident that not only were we going to be considered deranged for wanting to build a 120-element ropes course, but that the Swiss style of building was not yet understood here, so I had to arrange for several tests to show that Swiss-style cable connections and their respective strength were strong enough.
How did you grow OV?
Outdoor Ventures' first park at Catamount Ski Area was a big hit, and other ski resorts started asking whether OV could build a similar park for them, starting OV's building division. It quickly became clear that the U.S. adventure park business was about to start and essentially follow the path it had taken in Europe. OV's second park, The Adventure Park at Sandy Spring Friends School, made me realize that I wanted to build and operate as many parks as possible during the next 15 years. That was six years ago. OV has built about 30 parks to date and owns nine. This year, we decided to concentrate on running our own parks and no longer build for others.
Any advice for someone getting into the industry?
The best advice I can give to builders or operators is to remember who your client is, the person that will be experiencing the finished park—whether it's the average person who has little or no previous ropes climbing experience or the experienced climber. We are always thinking about what the climber experiences—where their head is as well as their feet.
The Sailor
Chris Robb
Adventure Park Assistant Manager, Mount Sunapee Resort, Newbury, N.H.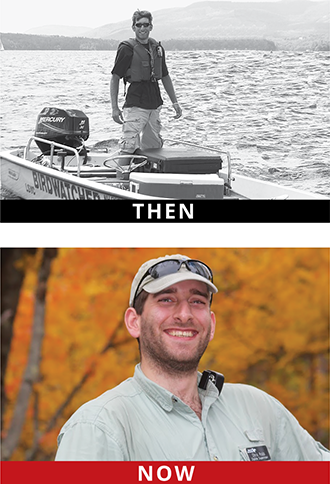 Describe your professional life before getting into this industry.
I have worked in a wide variety of jobs, including sales, sailing, construction, and food and beverage. My favorites were definitely construction and teaching sailing.
What introduced you to this industry?
I was looking to get into a job that involved fun, energy, and more reliable hours. I started looking at the same time that Mount Sunapee was hiring for the adventure park. It sounded like a fun job where I could utilize some of my previous skills. It's definitely one of the best decisions I ever made.
What was your first job in the industry?
It was canopy tour guide at Mount Sunapee. I started the week before we opened our canopy tour, the first of our adventure park attractions here. I managed to hold that job for about six days before I was promoted to assistant operations supervisor for the park.
How did your skills translate?
The knowledge of ropes, knots, and rigging systems from my time sailing has helped me immensely in understanding and improving the rope systems we use at Mount Sunapee. Almost every day I use many of the teaching methods and styles that I developed from teaching sailing to train employees, help guests, and foster development in our staff. The time I spent in ROTC and a few Army schools also taught me a lot about leadership and motivating people, both of which are absolutely critical in this industry.
What are you doing now?
I'm currently the assistant manager of the adventure park; my primary responsibility is the operations side. We offer a canopy tour with eight zip lines, an aerial challenge course with 32 obstacles on four levels of difficulty, a challenge tower with three 30-foot climbing walls, and an airbag jump with two levels.
Any advice for someone getting into the industry?
I would say remember to focus on the "awesome." There are always some tough situations and difficult days, but there are many more awesome things that happen in this industry. We recently had a young man with a prosthetic leg complete our entire aerial challenge course. This is just one of those amazing moments that will stay with me forever. The biggest reasons I get excited for work every day are the awesome experiences and the excitement we can share with our guests.
The Lifer
Rusty Rice
Aerial Park Manager, Bristol Mountain Aerial Adventures, Canandaigua, N.Y.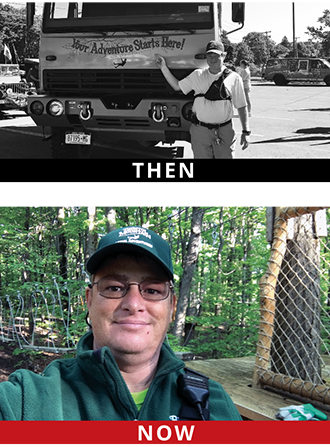 What introduced you to this industry?
I got my start in the outdoor education and adventure education side of the industry. My roots are in Scouting. I started working at my local Scout camp in the Adirondack Mountains at age 15, working my way up to the rock climbing director position. In my bachelor degree studies, I started doing more outdoor education and worked on my first challenge course with the YMCA in 1993 on Lake George, N.Y. I found my niche in challenge course facilitation. The bulk of my career was with Outward Bound, where I worked mostly as a sailing instructor but was also a site manager for the climbing and challenge course.
Did anyone serve as a mentor to you in the beginning?
Kenis Sweet trained me on my first challenge course at a YMCA outdoor center. He is now the staffing manager at Adirondack Extreme and has been a great resource for me. Also, Bob Bavis was my boss at Reachout Expeditions, and in positions prior to that. He was also my professor in a graduate adventure-based education program and became a good friend.
What are you doing now?
I work full time for Bristol Mountain Aerial Adventures. As the park manager, I balance my time out in the park with my guides and my administrative responsibilities. I conduct staff training, guide, assist climbers, and oversee inspections and maintenance. Prior to this, I worked at several courses simultaneously, going to whichever one had a group booked. My favorite part about being an aerial park manager is working with kids to get over their fears on their first climb, and having an "office in the trees."
How have you seen the industry evolve?
I have seen the adventure park industry become more mainstream and regulated. When I started, courses were just on college campuses, some schools, camps and outdoor centers, used for their educational value. Now they have grown into large-scale parks with appeal to those with more of an adventurous mindset. In both cases, courses have always been a lure to get people outside and active.
Any advice for someone getting into the industry?
Diversify. Larger parks have water parks attached, horseback riding, corporate teambuilding, ecotourism … the more skills you have, the more that you can offer an employer. ACCT credentials are key now, more so than when I started. That will put you right to the top of the hiring list.