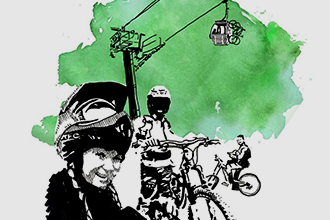 A proposal has been submitted to the Revelstoke City Council for a new adventure park. The developer, Illecillewaet Development Limited Partnership, originally submitted the project for consideration several years ago, however it was denied due to a variety of issues including First Nation consultations and roadway engineering.
In this new proposal, the developer included new studies and solutions to previous issues from the old plan. The project includes a zip line, lift-access mountain biking, camping, bungee jumping, rock climbing, ropes courses, Outdoor Gravity Orb ride, Sky Swing, manmade wave pool, and other outdoor adventure activities.

The adventure park would be developed on a combination of private and Crown land. Councilors have expressed concern with the entrance of the park and requested that emergency services be involved with mitigation plans. Considerations include lighting, road and parking lot planning, cameras, alarm systems, and highway entrances and exits.
If the Revelstoke Adventure Park goes ahead with construction, the first phase is scheduled to be complete in 2017.