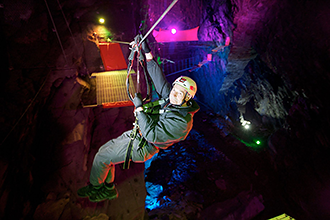 Zip World Caverns, billed as the world's largest underground zip lines course, is the latest addition of Zip World, a zip line builder and operator based in North Wales in the United Kingdom.
Zip World's attractions, that also include Zip World Titan, reportedly the only four person zip line in Europe, and Bounce Below are located in Snowdonia, a 823 square mile national park. The latest underground zip line course is built in a huge slate cavern and offers riders an up-close look at a vast series of historic mine chambers.

The course features a number of zip lines interspersed with rope bridges, balance beams, and tunnels. The cavern is lit with a technicolored lights with vibrant colors that help illuminate the remains of the Victorian slate mine. Sean Taylor, commercial director for Zip World Group, says the caverns offer a journey through an "Indiana Jones-esque environment" that has been inaccessible for nearly 200 years
"We've set ourselves the challenge to become the most fun place on earth with our adventurous and extreme family-friendly experiences," Taylor said.
The firm gained international recognition when it opened Zip World Velocity, reportedly the fastest zip line in Europe that features two, one mile long zip lines suspended 500 feet above ground where riders can exceed speeds of 100 mph.