How many of your visitors are repeat customers? It is important to be able to identify a few key demographic points about your guests, such as their return rate, so that you can both target your marketing and make informed decisions about your business strategy.
According to the Adventure Park Insider 2018 State of the Industry Report, P2P respondents reported that 40 percent of visitors lived within one hour of their location, while traditional respondents reported that 60 percent of their visitors lived within a one-hour drive.

Identifying where your visitors come from helps inform that other data point, repeat visitation. P2P respondents reported that 25 percent of their visits were returning guests, up five percentage points year-over-year. That metric jumps to 49 percent on the traditional side, up two percentage points year-over-year.
Comparing these two data points allows operators to make informed decisions on the launch of products such as season passes, challenge cards, or special events.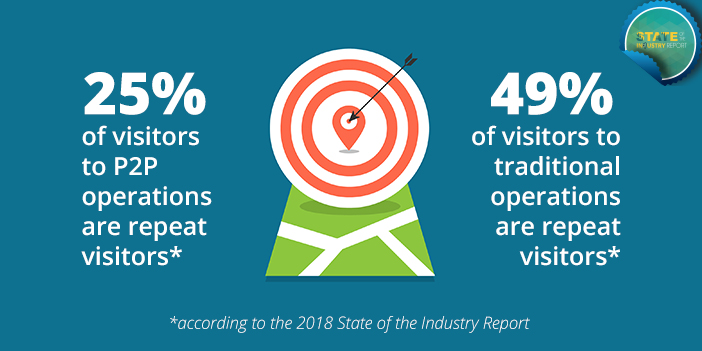 Challenge Towers president Ken Jacquot offers a list of suggestions in the article "Happy Returns" from the fall 2017 issue of Adventure Park Insider to help make season pass products successful:
Offer a season pass option for unlimited check-ins during the season.
When a season passholder brings a friend, the friend gets a discount on admission.
Season passes cover entry into special events, not just regular days.
Offer an upgrade option: Give guests a chance to try your course out and decide if they like it, then apply the cost of their ticket to a season pass.
Remember season passholders' names. Welcome them back. Get to know them. Treat them like family.
Additionally, identifying the current and future potential for repeat visitation can guide decision-making for the addition of new and varied activities.
Want to learn more? Check out the "Happy Returns" article on repeat visitation from Adventure Park Insider, or purchase the digital edition of the 2018 State of the Industry Report. 
We encourage all operators to track their visitor demographics and participate in the 2019 State of the Industry survey, which will take place in fall 2018. The more operators that participate, the better the data is, and the more it can support your operation and the industry as a whole.