Go Ape opened its first ever treetop adventure course in Illinois on June 25. Bemis Woods is part of the Forest Preserves of Cook County, in Western Springs, Ill., which partnered with Go Ape to bring the attraction to the greater Chicago area.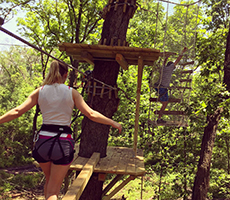 "The Forest Preserves of Cook County has aggressively expanded its recreational offerings over the last several years," said Forest Preserves general superintendent Arnold Randall in a statement. "It is exciting to partner with a company like Go Ape, which understands and complements our mission as an organization."

The project took two years to develop and features five individual sections within the course, including five zip lines, a double Tarzan swing, and 39 crossings made up of different bridges, ladders, and swings. The development and operation is funded entirely by Go Ape.
An annual lease fee plus a portion of revenue will go to the Forest Preserves of Cook County. Additionally, the company has set aside a number of free tickets for underprivileged groups.
For more information about Bemis Woods, visit: http://fpdcc.com/recreation/zip-line/