SOAR has reopened its adventure tower and mini-golf course today, May 1, 2020, with limited hours and capacities, in accordance with eased social distancing guidelines in Tennessee.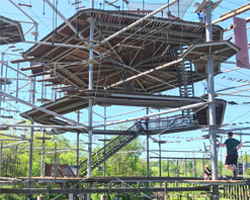 "It's been great," said owner Kevin Vanderkolk about reopening. "It was nerve-wrecking getting to the point of committing to it. But I'm really glad we did it. We've had a few small groups in this morning, and people are excited to be here. It's a slow start back but it is definitely a step in the right direction."

The park is operating on a reservation-only basis, and SOAR has changed its check-in process to minimize contact: participants are required to fill out waivers in advance online, new signage guides groups to their pre-booked activities, and special staging areas are set-up for individual families.
SOAR is allowing up to 20 climbers on the tower in two-hour blocks. These limited numbers allow for fewer demos. Staff operating the tower are required to wear a face mask, in order to tighten harnesses and assist on course, and staff are expected to practice good social distancing and hygiene.
"We felt like we were really able to minimize the contact from a customer service perspective," said Vanderkolk.
There is a scheduled 30-minute break between climbing sessions for cleaning and set up. The inside of the building and the equipment will be disinfected between each session.
While SOAR is running at partial capacity, harnesses will be sanitized and used only once a day to limit contact. And all carabiners will be sanitized after each use.
Hand sanitizer has been made available at areas of activity, including the front desk, base of the tower stairs, and at the end of the mini-golf course.
On the mini-golf course, all groups must leave one empty hole between them and the group in front of them; single groups of up to six people are allowed to go off every 20 minutes.
"We are here for those people that are comfortable and want to get out and start reengaging," said Vanderkolk. "And we are doing our part to make everything safe and clean."