Folks near Franklin, Tennessee might soon encounter a man clad in a deer or cardinal suit monkeying around on a ropes course along Carothers Parkway, a major travel artery running parallel to Interstate 65.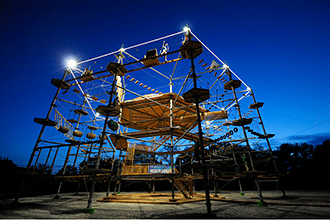 Kevin Vanderkolk, who spent 15 years as a professional mascot for the NBA's Milwaukee Bucks and NFL's Arizona Cardinals, is now the owner of SOAR Adventure, a newish sort of adventure park that is currently under construction. Vanderkolk said it will be the first of its kind in North America.

Before launching Soar, Vanderkolk considered building a trampoline park. But that was before he saw his first vertical ropes course at a trade show. The 50-foot structure now under construction will include 110 climbing elements, including guitars, drums, and bridges with challenges, to suit all ages.
Vanderkolk said nine similar parks are in operation in Europe, and they are unique in that they allow climbers to choose their own routes, heights, and level of difficulty.
The $3 million project is scheduled to open sometime between mid-August and early September, with capacity for up to 140 users at a time.